Granola bars are a healthy, portable snack bu I dislike using processed foods, especially in quantity, so I decided to investigate how hard it would be to make my own granola bars. This is what I came up with.
These are so easy and so good for you. I have practiced this recipe many times and I finally figured out the correct ratio of the different ingredients.
To make these granola bars you will need:
jelly roll pan (approx. 13×18″) or two brownie pans (9×9″)
parchment paper
cooking spray or butter wrappers for greasing
pizza cutter — for cutting the bars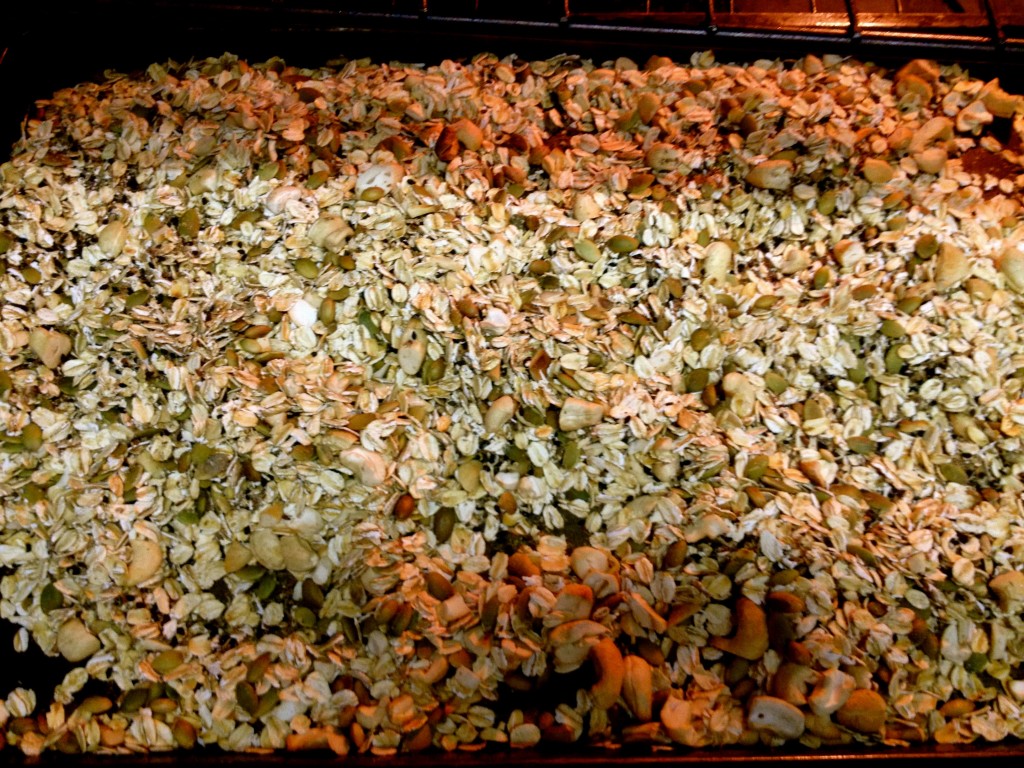 The ingredients you use are mix and match but you need a ratio of: 4:2:2:.5 — 4 cups dry,  2 cups sticky/moist, 2 cups binder, 1/2 cup fat. Here's a breakdown of what each category can contain:
Dry
whole oats (the most popular and obvious choice)
puffed rice
cornflakes
bran flakes
cheerios
wheat germ
flax meal
pretzel pieces
nuts: almonds, walnuts, cashews, hazelnuts, pistachios, raw peanuts, macadamia nuts, pecans, soy nuts
seeds: sunflower, flax, pumpkin, sesame
Sticky/Moist
dried fruit: banana chips (crushed), raisins, apricots, apples, prunes, dates, cranberries, blueberries, pomegrante
chocolate chips — white, milk or dark
butterscotch chips
toffee pieces
coconut (unsweetened is better for this)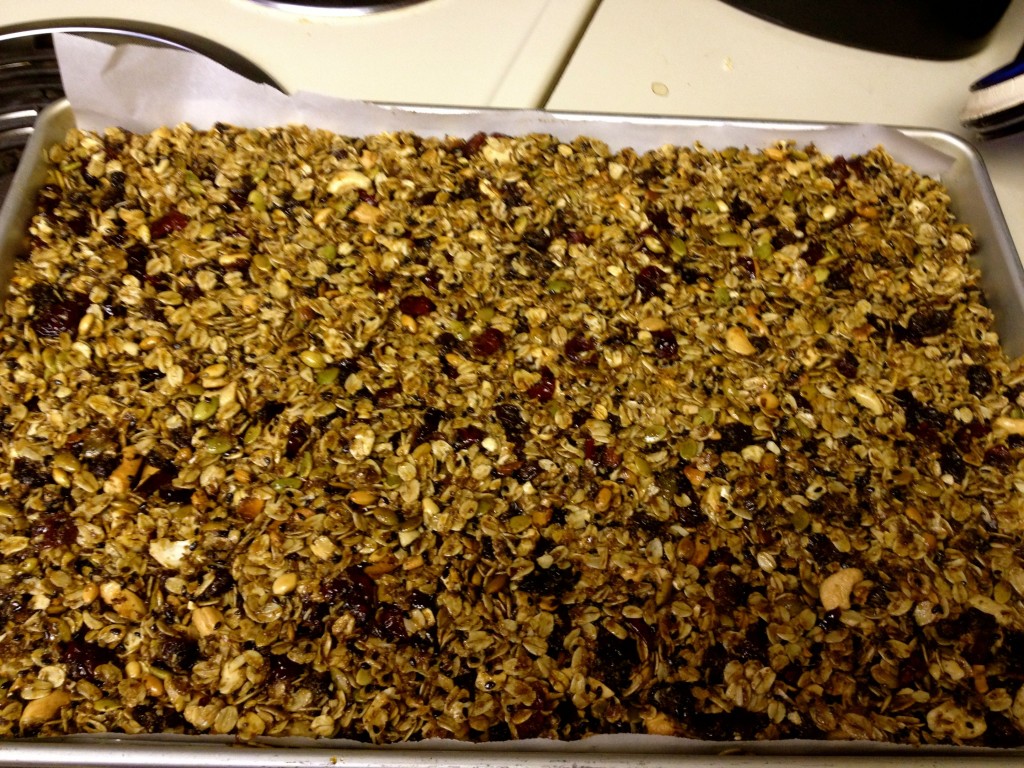 Binder —the standard recipe is the first option but you can also consider adding:
1 1/2 cups lightly packed brown sugar & 1/2 cup honey
molasses
agave
corn syrup
maple syrup
butterscotch syrup
chocolate syrup
Fat
Butter
Oil (choose an oil without a strong flavor like canola or grapeseed)
Add Ons — You can also experiment with adding other flavors but keep the ratio constant
Peanut butter or other nut butters
Nutella
Cocoa Powder
So the actually cooking process is simple. This makes approximately 16 bars:
Preheat the oven to 250° and toast the dry ingredients in a pan, mixing half way through, for 10-15 minute — include the coconut if using that
After toasting, pour the dry ingredients in a bowl and add the sticky/moist ingredients as well — if using chips (chocolate, etc.), freeze the chips and add them at step 4.
Heat the fat and binder in a saucepan over low heat until liquid
Pour fat/binder mixture into bowl with other ingredients — if adding chips, let the mixture cool again and add them right before baking.
Preheat the oven to 300°. Grease the pan(s) and line with parchment paper, making sure it extends past the edges
Pour the mixture into the pan(s) and press down with the button of a spatula
Bake for 15 minutes.
Remove from oven and let cool until slightly warm to the touch
Remove bars from pan by sliding knife around the edges and lifting up the parchment paper
Cut into bars with the pizza cutter — if the mixture is still slightly warm, it is much easier to cut. but, if it is still hot, it will fall apart when removing from the pan so take care.
That's it, enjoy.
Can you think of another ingredient that I haven't mentioned? Let me know and I'll add it.