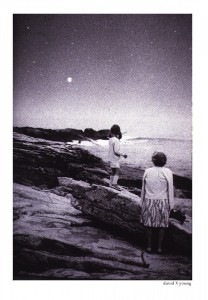 Whether this is the first post you have read in this blog or you have been following it for a while, it's safe to say that you have concluded that I like to cook. This is true but I didn't always feel this way. Although I enjoyed cooking on special occasions, it has only been in the past few years that I have enjoyed cooking on a daily basis, without the fanfare of a special event.
For fostering my artistic abilities I credit my parents (David X Young and Kate Merrick); my fascination with different cultures comes from my travels to Haiti; but my love of cooking and so much more, I owe a great debt to Tante.
Tante was my second cousin twice removed, I enjoyed figuring that out as a kid, which meant she was the first cousin of my grandmother on my father's side. But to me, she was the only real grandmother I ever had.
To Tante I owe so much, spending summers at her house on the coast of Maine, where she taught me to knit when I was just 5, making barbie doll blankets (I still have the needles I learned on!), sew by hand and on a machine, crochet, latch hook rugs, cross-stitch, arrange flowers, and of course… cook. Tante loved to cook, I remember helping her bake an angel food cake, whisk a Béchamel sauce and many other delicious things. Tante always cooked by feel — "a pinch of salt" or a "smidgen of cinnamon". I have such fond memories of cooking with her.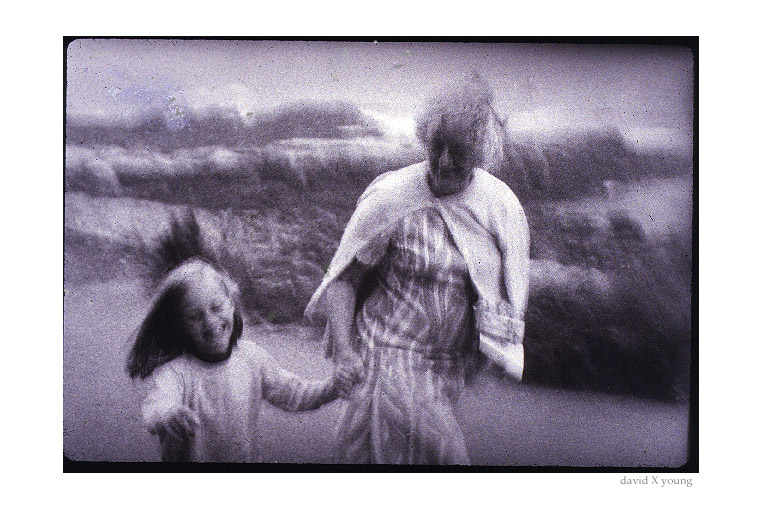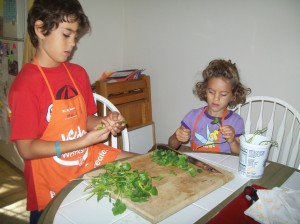 To be sure, the seeds were planted for me to love to cook, but my feelings changed when at 10 years old, I went to live with my father in NYC. My father treated me like his housewife and expected me to do all the cooking and cleaning. Like any housewife who is expected to do it all with no appreciation, I resented my role, never mind the fact that I was just a kid! Cooking then became a chore, a drudgery, and I longed to go out to eat because I could enjoy the meal without the task of preparing and cleaning. As a young adult, whenever I had money, or even if I didn't (credit card) I ate out a lot, only cooking on special occasions.
It wasn't until I met my ex that my attitude towards cooking dramatically changed. When we first started seeing each other, I cooked a lot to impress him when he came over but the daily cooking was handled by the girl who worked for me. But when he and I started living together, we decided to run the house on our own and that's when things changed.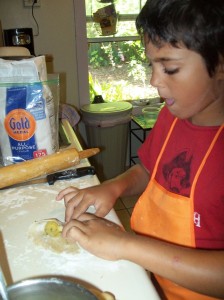 In Indian culture, food is sacred and cooking at home is preferred over eating out. Preparing a meal is the way you demonstrate your love. Far from being a burden, mealtime is a celebration, a time to share, to relax.
Once I got used to considering mealtime and cooking on a regular basissomething shifted and two things happened: 1) I found I got a great sense of joy from cooking for my family; and 2) the enjoyment of cooking at home surpassed my desire to eat out to the point that didn't really want to anymore.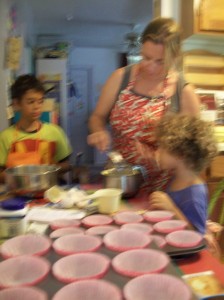 In American culture the value of cooking at home has been has completely lost, substituted with fast food, processed foods and prepared food options. This wasn't always the way in America but we are paying the price for this shift with our health issues, including obesity, and a general breakdown of the family unit. It occurred to me that cooking at home is a missing link in our cultural unity. We are a people that thinks of ourselves first over others, even within one's own family. Just take a look at the immigrant families who are generally much more united within their culture and their family groups, and who on average, value home cooking and sharing meals.
In the 1950's women were expected to have dinner on the table for the man who was the provider. Women felt oppressed and longed to provide on their own. Companies responded by offering processed and packaged foods that were easy to cook. They were marketed to women as a way to release them from the drudgery of cooking.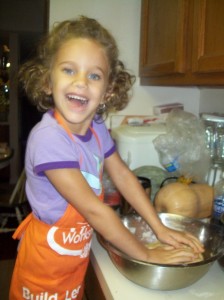 The next shift was when women started earning more on their own, with families now having two incomes and both parents working full time, eating at home was replaced by eating out. To make it affordable, low budget restaurants were plentiful that offered meals at low prices but also low nutritional content as well. In addition, time became squeezed as the societal pressure to work more and earn more increased. In America the goal is about material 'evidence' of success: new car, bigger t.v., etc. so to meet the time constraints, fast food restaurants flourished which offered food that was quickly prepared and low in cost. However, the 'price' for this food was high in terms of our health.
We complain of not having enough time to cook, but Americans spend more time watching cooking on the Food Network than actually preparing their own meals. In his series, "Food Revolution," Jamie Oliver showed us how we have raised a generation of Americans who can't recognize a single vegetable or fruit, and don't know how to cook. [Source]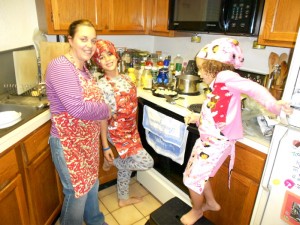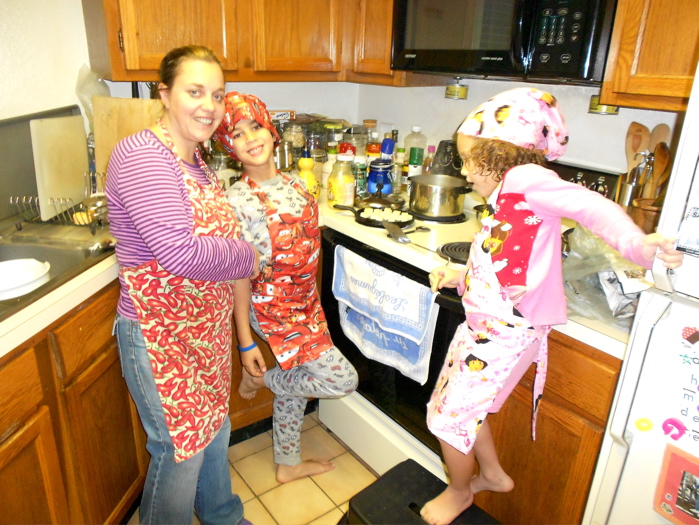 Culturally, men on average have not cooked in traditional family groups so when women asserted their independence and entered the workplace, the result was that for the most part, no one cooked, at least not they way they had in the past. They heated up, or put together a quick meal from processed/packaged options.
I remember going to a friend's house in 10th grade. She was very excited to tell me that her father had cooked a good meal for us. When I arrived at the dinner table, the father served us some cheese tortellini with the Buitoni package still open on the counter. At the end of supper, my friend asked "Wasn't his cooking delicious?". Do we now identify cooking as heating up a can of soup, or microwaving a frozen pizza?" [Source]
The whole value of cooking at home has become abandoned by the wayside which is such a shame because the benefits of cooking at home are profound.
Research shows that children who have regular meals with their parents do better in every way, from better grades, to healthier relationships, to staying out of trouble. They are 42 percent less likely to drink, 50 percent less likely to smoke and 66 percent less like to smoke marijuana. Regular family dinners protect girls from bulimia, anorexia, and diet pills. Family dinners also reduce the incidence of childhood obesity. In a study on household routines and obesity in U.S. preschool-aged children, it was shown that kids as young as four have a lower risk of obesity if they eat regular family dinners, have enough sleep, and don't watch TV on weekdays. [Source]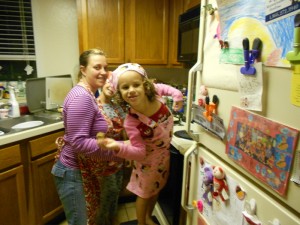 Benefits of cooking at home:
More nutrition, less additives — the more you cook, especially from unprocessed ingredients, the better your diet will be and the healthier you will feel.
Save money — eating out is a huge expense in most American family's budget. With the money you save, you can afford to buy better ingredients which will also benefit your family's health.
Portion control —a huge factor in obesity is the size of the portions in most restaurants, especially in terms of fat content.
Quality time — it really doesn't take much time to prepare delicious, healthy meals. On average I spend 30-45 minute and I try to include my family in the preparation which teaches them about the food they are going to eat as well as helping out.
Important gift — whether cooking for yourself or a large group, preparing a home cooked meal is an important gift you can give, the gift of nourishment, the gift of health
Share as a family — sharing the meal you have prepared as a family brings your family together in one place for a period of time. By eating together, especially a home cooked meal, you are united for that meal and if mealtime becomes a regularly shared event, it allows parents and kids to check in without an agenda, which can provide a release from daily tension.
In future posts I'll share some tips for quick ways to cook meals at home. Meanwhile, here are some great resources…