Above: Finished samosas are really good with mango or mint chutney.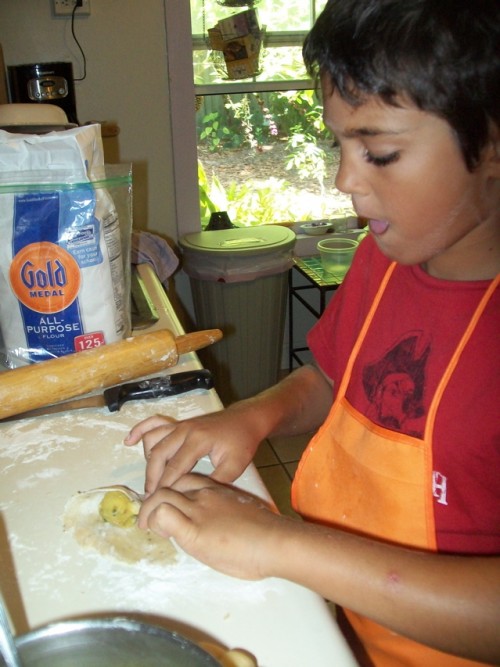 When I use the oven, especially in the warmer months. I have to make use of the whole oven so I feel that heating up the house is worth it. Since I was already making the chicken today, I decided to make samosas as well.
I can't take full credit for this recipe. I am often inspired by recipes but invariably make it my own. In this case, the inspiration came from Aarti Sequeira's blog, the host of the new Food Network Show: Aarti Paarti.
I have made samosas many times but have not been 100% happy with the results, especially with the dough. The dough I would make, which was a traditional chapatti dough, was just flour, water, salt and a little oil. It worked fine if I was going to fry the samosas, however, if I tried to bake the samosas, I found the dough too dry.
So I was looking for a good baked recipe and that's how I found Aarti Sequeira's blog, So for my version I stayed fairly true to her dough but adapted my own filling but her video is really handy for the folding. Boy did they come out good!

Make the dough first, then while it's resting mix up the filling.
Ingredients
1 c white flour
1 c cake flour
1 tsp salt
½ c lowfat buttermilk
½ c peanut oil
3 russet potatoes
1 tsp curry
½ tsp tumeric
½ tsp paprika
½ tsp cumin
½ tsp caraway or ajwain seeds
½ tsp ground coriander seeds
2 tbsp mango chutney
1 tsp minced fresh cilantro
¼ c chicken broth
1 tbsp butter
Instructions
For the dough, mix the white and cake flour with the ½ tsp salt, buttermilk, oil and caraway or ajwain seeds
Knead for 5 minutes
Let rest for 20-30 minutes
Peel and boil the potatoes with salt and tumeric. When tender, drain.
Add butter, chicken broth and mash potatoes.
Mix in remaining spices, chutney, and fresh cilantro.
Form the dough into small balls, 1½ inches in diameter. On a lightly floured surface, roll out the dough into thin circles, about 7" in diameter. Cut into half into two semi circles.
Place a 1" ball of filling in each semi circle of dough and fold into triangle. You fold the cuts side up, forming a corner, with the curved sides meeting. Repeat with the other side. Seal well. You will get a triangular shaped pastry.
Place samosas on a greased cookie sheet.
Preheat oven to 425 degrees. Cook samosas for 15 minutes.
Lower heat to 375, turn samosas over and cook for another 10 minutes.
Notes
If you want more kick, add one minced red chili pepper. Frozen peas are a nice addition. Also if you want to add poached, shredded chicken, that's good too but I prefer the vegetarian version.