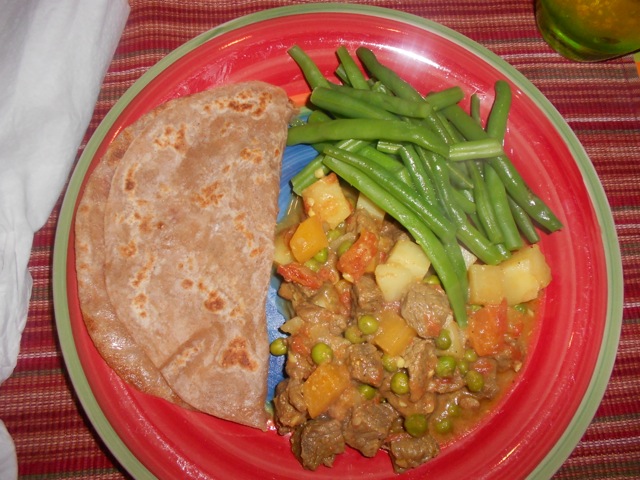 Today is Saint Patrick's Day and I will be cooking a traditional Irish meal of corned beef and cabbage but last week I made a delicious winter stew with Indian flavors that was worth a share.
My husband, Karan, is Hindu and therefore does not typically eat beef or pork. But Karan is also a bodybuilder and has plans to compete again. His need for protein is immense and he realized that his body needed the protein that beef offered. I have been vegetarian before so I know you don't have to eat meat to get the protein you need but with bodybuilding it requires such a high quantity of protein that the sheer amount of food, and the time to eat it, makes beef a good option. We look for the highest quality meet, preferably organic, and have it at most once a week.
Lamb could be substituted for beef as well.
Indian Winter Stew
Look for high quality beef that is primarily lean but with a few veins of fat running through it. Marinate the meat for at least 1 hour for best flavor.
Ingredients
2 cups beef cut into small cubes (about ½")
1½ cups plain greek yogurt
½ lemon squeezed
1 tsp salt
½ tsp turmeric
10 cloves of garlic pressed
2 tsp fresh ginger grated
½ tsp hot paprika or cayenne
1 medium to large tomato diced
1 cup rutabaga peeled and cubed small
2 cups white potato peeled and cubed small
1 cup green peas
1 medium onion minced
1 tblsp ghee or oil for frying
3 cups vegetable stock (saved water from cooking vegetables works great)
Instructions
Marinate the beef with the garlic, ginger, spices, lemon juice and ½ cup yogurt. Let sit for 1-2 hours in a non-reactive bowl (stainless steel, glass) and cover.
After time has passed, saute onions in oil over medium heat.
When onions are glassy, increase heat add meat marinade, stirring quickly.
When meat is starting to brown, add diced tomatoes and stir until they start to break down.
Add potatoes, rutabaga and stock. Cover and reduce heat.
Cook down until root vegetables are soft and liquid is almost gone, about 45 minutes.
Add green peas and rest of yogurt. Cook another 10 minutes to blend flavors, remove from heat and serve.