Soup used to intimidate me. I have always cooked but only in the last couple of years have I felt comfortable with making soup. The irony is that soup is one of the easiest things to cook once you understand the basics. Once you learn them you will never want to open a can of soup again.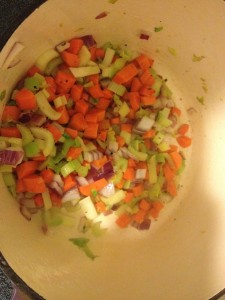 What can be intimidating is creating that base flavor which is what really makes a soup delicious. For anyone who has attempted to make soup by putting a bunch of ingredients in several cups water and heating it up will realize the importance of the base. The makers of canned soup will encourage you to forget about figuring it out and just open a can but you pay the price in flavor and unwanted additives.
So here are the easy steps to creating a soup.
Mince the base ingredients, otherwise known as your mirepoix
The most classic mirepoix is carrot, onion and celery, a go to base for most soups. For some dishes you may substitute ingredients in the mirepoix but you want vegetables that are firm but with some water content that is released when you cook them. So, tomato, for example, would be too watery at this stage but pepper would work. All you do is finely dice about 1/3-1/2 cup of each vegetable.

Here I added corn, potatoes and fish.

Saute the mirepoix in butter or olive oil, generously seasoned with salt and pepper
What you are doing is gently sauteing the vegetables in a little bit of fat to release the flavors. This should be over medium heat, stirring frequently, until the vegetables start to break down (onions get glassy, carrots and celery get soft.

carrot water I saved

Add as small amount of water plus additional vegetables, spices and meat
Now you add a little bit of water (about 1/2 cup) with any additional vegetables you want in your soup. Cook for another 10-15 minutes stirring occasionally.

Add additional flavorful liquid, lower the heat as far as you can, cover and cook for another 30-60 minutes.
Before you reach for the box or can of flavored stock, consider saving water when you cook vegetables and using that.
Once the soup has been cooked you can serve as is or blend to make a cream or pureed soup.
Want to try it out, start with a soup recipes from this blog.
Here are a few things to keep in mind:
The best soup pot I have found is ceramic coated cast iron. The cast iron holds in the heat while the ceramic coating prevents sticking
The smaller you mince the vegetables in the base, the faster the base will come together
Season at the beginning, during, and the end of cooking
The easiest way to puree a soup is with a hand blender
You can make a low fat cream soup by making the soup with a stock base and then adding the cream at the end. You'll get the creamy taste without all the fat of a full cream base