Above: Finished cupcake revealing the chocolate center.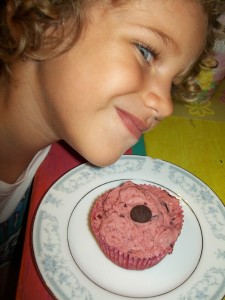 I came up with this while planning my daughter's fifth birthday party. I wanted a tropical theme to celebrate her roots (she is half Dominican and spent her first 4 years there) but I also needed to incorporate chocolate, my daughter's favorite food.

Chocolate-Filled Mango Cupcakes with Cherry Frosting
These have a yummy surprise in the middle!
Ingredients
Cupcakes:
3¾ cup cake flour
3 tsp baking powder
1 cup sugar
½ stick butter
1½ cup lowfat greek yogurt
2 eggs
2 egg whites
½ cup coconut milk
1 tsp vanilla
1 cup mango puree (frozen mango is a good option if fresh isn't available)
Hershey's Dark Chocolate kisses
Frosting:
1 pkg Lowfat (Neufachatel) cream cheese
1 cup pureed cherries
¾ c white sugar
Dark Chocolate chocolate chips for garnish
Instructions
Cupcakes:
Puree mango in a food processor.
In a bowl, mix with an electric beater the sugar and butter until creamy.
Add in the whole eggs, coconut milk, vanilla, greek yogurt and mango puree
Sift the dry ingredients into the bowl with the wet ingredients: flour and baking powder.
Mix well.
In a separate bowl, beat the egg whites until soft peaks form, set aside
Fold egg whites into the cupcake batter and gently mix.
Preheat oven to 350 degrees.
Line cupcake tins with paper wrappers.
Put two tablespoons of batter in the middle of each cupcake well and lace an unwrapped Hershey Kiss on top of the batter.
Fill the cupcake wells with batter to the top.
Bake for 15-20 minutes or until a toothpick inserted in the center comes out clean.
Frosting:
Puree cherries and drain off any excess juice
Mix cherries with cream cheese and sugar
When cupcakes have cooled, frost and garnish with a chocolate chip.
Notes
For the frosting, fresh cherries are better than frozen because there is less liquid and the frosting is better consistency. If you have to use frozen, puree first and drain the juice as much as possible.