Tsunami Overshadow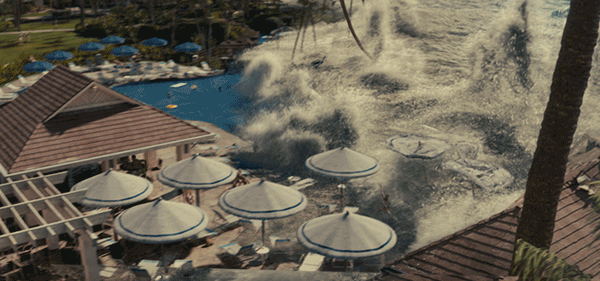 Above: Screenshot from the movie "Hereafter"
Well here I am at the Orlando airport. The trip down was easy breezy. I so love that I have a car. I made it down in less than 2 1/2 hours. Plenty of time to spare. I found a deal on parking, $4/day only 2 miles from the airport. Couldn't get much easier. Google maps gave me great directions, I had pre-booked the parking online so I just had to pull in, show the receipt and park my car. The shuttle followed me to the space and took me right away to the airport.
Only bummer is that I haven't been able to connect to the internet and I have time to spare. Ironically, I was able to connect just long enough to call my ex and let him know I made it to the airport and then for almost the whole time I was waiting, I couldn't get online until I finally connected again just before boarding.
The tsunami that struck Japan was all over the news, making the drama of my visit, which had seemed near heroic before, of minor consequence. I wasn't able to see enough on the news to know more than that it is a major, major disaster.
JetBlue had an unusual choice for the inflight movie: Hereafter with Matt Damon. Interestingly, the movie begins with a tsunami wiping out hundreds of thousands. Nothing like a visual illustration of the drama on the other side of the world. The flight ended before I could see the whole movie however, now I want to rent it to see the end.
Soon I will land in Santo Domingo. It still feels a little beyond my comprehension. I haven't seen my ex in so long. I don't fear that anything has changed, nothing like that, it is just a bit surreal. When I am in the US, I put the romantic part of my life on hold. I focus on work, on the kids. But when I'm in Santo Domingo, it's like a honeymoon, perhaps not in an idyllic hotel room but a honeymoon none the less.