Featured Image [Source] of Rustic Kitchen
As I pack for yet another move (I hate moving, who doesn't) and I'm still a year or more away from buying a home of my own, I can't help but fantasize on my dream kitchen. When it comes to tools and supplies, I am almost already there, as my numerous kitchen boxes attest, but my dream kitchen is still a ways away.
I love to cook so space is key. I was drawn to the image above because it is both rustic and modern, warm and clean. I love having space for multiple projects, a savory and a sweet for example, worked on in separate areas so no flavors contaminate the other. I also love space for family and friends to socialize around a meal and it's preparation, my favorite kind of socializing.
Kitchen Dreams
So if I was to design my dream kitchen now, I would need to find a big enough space of c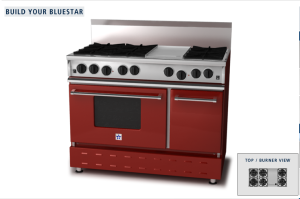 ourse and then the next step would be the stove. Gotta have gas of course. If you don't know why that is essential then you don't cook much. Gas is responsive so it heats up fast and adjust temperatures quickly. This gives you full control over how you cook. Still not sure? Imagine trying to drive a car that had a delayed response to acceleration or braking. Get it now?
My ideal stove would be one like in the picture, sold by BlueStar with a full oven, half oven, six burners and either a griddle or a grill in the middle (haven't decided that one). I like color in my kitchen so I would probably choose red. Not sure what range you want? This link helps you choose.
The kitchen island would be nice to have a prep sink as well as storage space and an eating area for 2-4. A separate pantry for all my spices and ingredients and an area where I can have my utensils and best pans within easy reach. It will be so fun when I can design one for real.
Kitchen Essentials
Until I get my dream kitchen, I comfort myself with acquiring the best tools to cook with. Here are some things I can't live with out.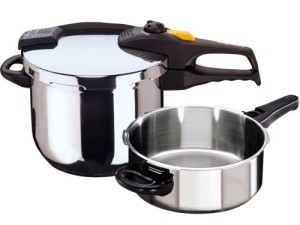 Pressure Cooker — I know a lot of people are still scared of pressure cookers but I swear by mine. It makes it possible to cook simple or elaborate meals in a fraction of the time. The brand I use is Magefesa, pictured on the left. This model comes in two pot sizes with the same lid and has triple safety features — the lid can not blow off. I have never had any problems. Only thing is you have to monitor the cooking time because it is so fast. You bring it up to pressure on high and then cook on low for recommended cooking times. Once done you put under cold water until pressure is release and take off the top. Here are some examples of how quickly it cooks:
Potatoes, broccoli, carrots or white rice: 4 minutes — normal cooking time 20+ minutes
Dried beans (soaked for 6 hours): 20 minutes, not soaked: 45 minutes. — normal cooking time 90+ minutes / 2-3 hours
Green beans: 2 minutes — normal cooking time 8+ minutes
Brown rice: 20 minutes — normal cooking time 90+ minutes
You can also cook stews in 10-15 minutes and much more. The cooking is so quick that the flavor is really fresh. I know most people like slow cookers but I found the flavors get muted int the cooking process.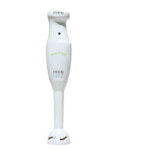 Immersion Blender — If you have ever tried to puree a soup in a traditional blender, only to have it overflow hot liquid everywhere then you know why one of these is so handy.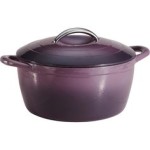 Cast Iron Dutch Oven — I have a ceramic covered cast iron dutch oven that I I got on clearance from Target. I got the deal because light purple was not a popular color. It is not a name brand but it works great. It conducts heat like a pressure cooker and with the ceramic coating you can go from stove top to oven to clean up with minimal mess.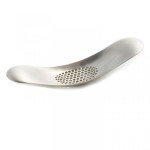 Garlic Rocker — Get rid of your garlic press which is such a mess to clean and get yourself one of these handy tools by Joseph Joseph. I have tried numerous garlic 'tools' and this is by far the best. But, get the version that is all metal versus plastic with a metal insert because you put a lot of pressure when you 'rock' and the plastic ones will break quickly if you use it frequently, which I do.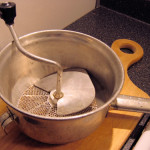 Food Mill — Sometimes the best tools are the most simple ones. My food mill looks like the one in the picture. You can find them cheap at second hand shops or yard sales. You can also buy them new. A food mill is used for removing the pulp from food. It used to be used for making your own baby food but since I don't have any babies to feed, I use it for making pumpkin pie puree from fresh pumpkin among other things.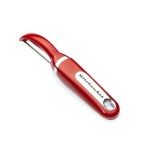 Euro Peeler — I use a peeler just about every day and this is the best one I have found. It is made by Kitchen Aid and it peels smooth and is easy to hold.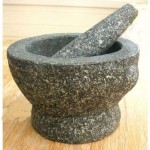 Mortar & Pestle — I have a stone one for grinding spices. I got it at a local Asian market. I'd recommend looking in a local ethnic market for one first but you can also buy them online. Look for one that has a long enough handle for grinding. Short handled ones are only good for mashing soft food like avocados.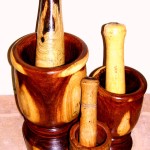 Pilón — This looks like a mortar and pestle but it is made of wood and used in Caribbean and Latin cooking. You mash wet ingredients like garlic and herbs with it. I also use lots of other Caribbean tools like a Tostonera (plantain press), and a hand citrus squeezer. You will find the best deals on these tools and others at your local ethnic markets.
It goes without saying that there are lots of other things I use. My favorite pan is a deep dish "Essential Pan" from All Clad. Their pans aren't cheap but you can really tell the difference when you cook with them. I was lucky enough to get this one for a wedding present. My other favorite cooking brand is Le Creuset and I got a lovely oval casserole dish from them for Christmas.
Some tools I have multiples of like rubber spatulas in all shapes, sizes and flexibility. I keep so many ingredients on hand so air tight storage is really important. Target sells square glass storage containers which seal well and stack. They come in a variety of sizes.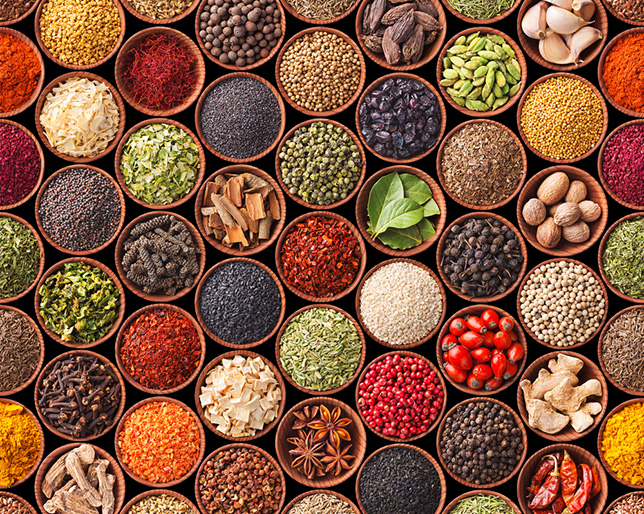 Last but not least are spices in all forms and flavors. The fresher the better.
One day I will have my dream kitchen. Until then I'll keep cooking any way, anywhere.