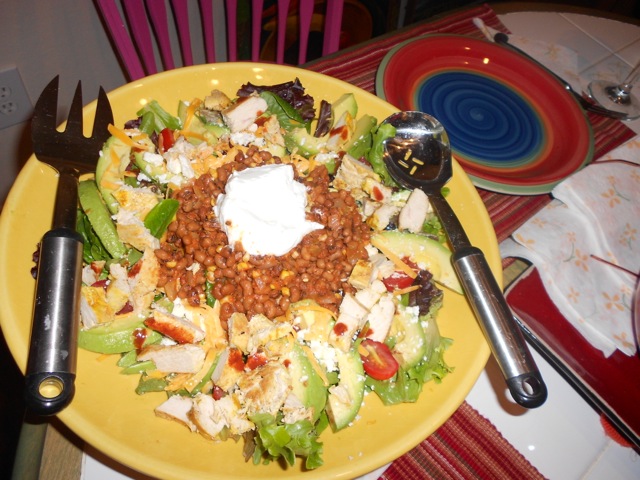 This is a great salad for summer and you can play with the ingredients as suits you.
Ingredients
Head of Lettuce
2 Haas Avocados
2 Ripe Sweet Tomatoes (on the vine) or 1 carton of grape tomatoes
1 Medium Onion sliced in paper thin rings
½ cup Queso Fresco Crumbled
½ cup Grated Cheddar Cheese
2 cups Beans or 1 can — black, red or kidney beans are all fine and feel free to season to taste
1 grilled chicken breast (may be prepared ahead — pound breast thin and grill with olive oil and a little salt and pepper) cut into strips
1 tsp hot sauce or sliced jalepeños depending on heat desired
1 dollup of light (not non-fat, no taste) sour cream
2 tbsp olive oil
juice of ½ lime
Instructions
Layer salad as follows:
st lettuce shredded
sprinkle with tomatoes then onions
arrange thin slices of avocado around the edge of platter
sprinkle both cheeses
place beans in center
add grilled chicken (location your choice)
dot salad with hot sauce or sprinkle jalapeños
place a hearty dollup of sour cream in middle of beasn
drizzle olive oil and squeeze lime
Notes
play with ingredients like: corn kernals sweet pepper other grilled protiens: tofu, fish, shrimp, etc. serve with bread or mini cheese quesadillas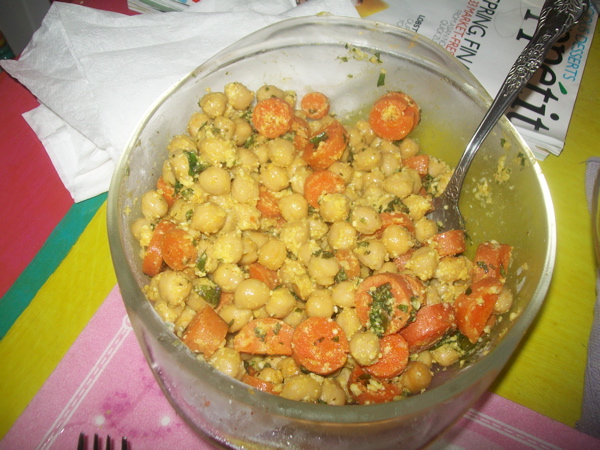 This is a fresh salad for summer that I came up with and it's really yummy.
Chickpea Salad with Mint
Author: Eliza Alys Young
Recipe type: Salad
Serves: 4
Ingredients
2 c chickpeas = 1 can
2 med carrots
½ c minced fresh mint leaves
1 tbsp olive oil
2 tbsp lemon juice
Pinch of Salt
½ tsp ground black pepper
½ tsp curry powder
¼ tsp ground tumeric
Instructions
Slice carrots into small circles.
Cook the carrots and chickpeas until fork tender. Chill until cool to the touch.
Mix all ingredients together adding the mint at the end.
Notes
Fresh is always best so if possible, used just squeezed lemon and chickpeas that have been soaked and cooked before. Dried mint will not work in this dish.