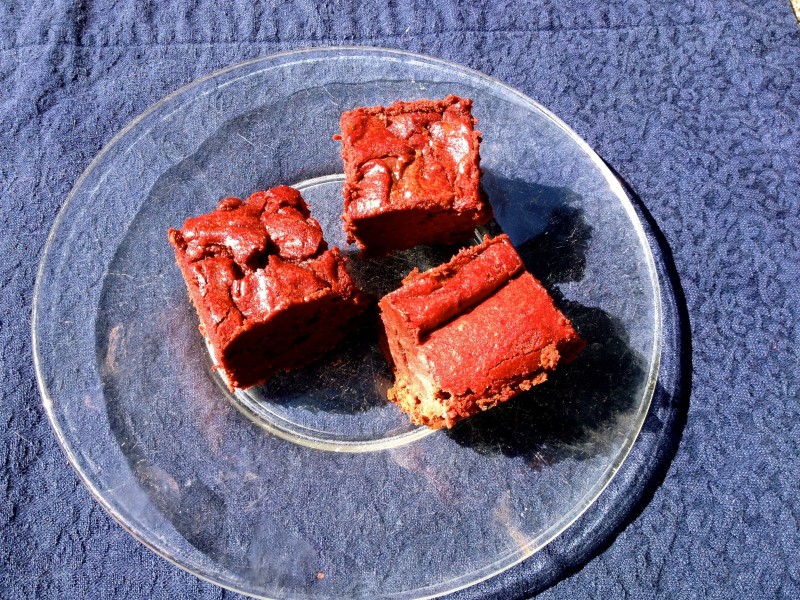 Chocolate Beet Brownies
This has a deep chocolate-fudge flavor with an earthy sweetness from the beets and a fresh taste with the orange. Delectable!
Ingredients
1 cup peeled and pureed fresh beets
1 stick unsalted butter, cut into ½-inch cubes
1 cup greek non-fat yogurt like Fage
6 ounces good-quality unsweetened chocolate, roughly chopped
¼ cup cocoa powder
1¼ cups sugar
3 large eggs
Zest of 1 orange plus 3 tablespoons fresh orange juice
1¼ cups self-rising flour
Instructions
Boil the beets whole until tender and then peel under cold water. Puree in a food processor or food mill until smooth.
Preheat oven to 350•
Heat a saucepan with water and place a metal bowl over it. Melt the butter and chocolate.
With a stand or hand mixer, mix the eggs and sugar until smooth.
First blend in the yogurt, then the cocoa powder, orange zest, orange juice and finally the pureed beets.
Add the melted chocolate and blend well.
Add the flour slowly.
When all blended, pour into a greased 9 x 9″ pan.
Bake 15-20 minutes until center is slightly soft but the rest is firm.
This recipe was first introduced to me through this site and was it came from this book. But I adjusted it slightly as I always do…