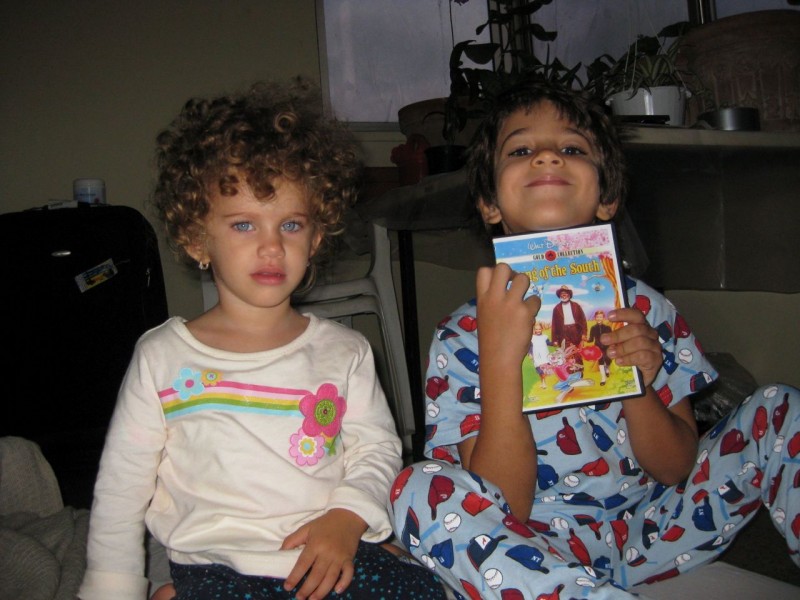 Above: Circa 2009, Elsa and Marcos after receiving a present from their Nana — it didn't take much to make them happy.
The other day Karan and I saw something on the news about the Dominican Republic. We saw a picture of a rainy, flooded street and it brought back a rush of memories for us both of living there. We felt wistful.
When the moment passed I said to Karan in a quiet voice "I know you miss living there.", to which he nodded silently, and I said "Me too."
So why do we miss a place with so many problems, problems which are as clear in our memory as everything that is good? I know my reasons, I wrote about them long ago in my post Life in High-Definition Video but I was curious what Karan's reasons were. The first, and really only reason he gave was "People are happy." How true.
It is a conundrum that is not unique to the Dominican Republic. The poorer the country, the less they have on average, the happier the people seem to be. I remember this as a child when I visited Haiti. The children we are all smiling, flashing their brilliant white teeth against their dark skin, playing with sticks and scrap metal. Most of the children had no shoes, dirty clothes and swollen bellies from lack of proper nutrition. As I child myself, I only saw smiling faces, children full of joy and it made me happy.
Dominicans, by contrast, have more than Haitians and it is "happiness quotient" is therefore a little lower. Within the Dominican Republic, it is the upper class, the privileged, who complain more, who dwell on the negative. But the poor, who have the greatest reasons to be unhappy, find joy in every day things from a cool breeze which relieves from the blistering midday heat, to their favorite song playing on the radio.
The United States is a far more privileged country than the Dominican Republic or any other third world country and our unhappiness reflects this. We don't appreciate that we have running water, electricity, maintained roads, public libraries, good schools…no, we don't even think about these things and instead complain about any glitch or bump in our day. This goes back to my theory that all Westerners should live in a third world country for at least 3 months to give them some perspective.
It just seems that, on average, the less one has, the less one needs to make one happy and by contrast, the more one has the more one needs for that same happiness. The people in poor countries do not dwell on the difficulties of their life, difficulties that in many ways they are powerless to change, instead, they celebrate the little things in their life that are good. We can all learn from this.
Although as American, I am privileged compared to someone in the third-world, by American standards, my upbringings were far from privileged. Yet, for the most part, it was a happy childhood. Both parents were artists, divorced, and broke. There was lots of turmoil, little money and in the mix was the problems with my legs which kept me in the hospital most of my youth. But although there are memories that are painful, there are others that shine and those are the ones I cherish. People used to say how awful it must have been to have to spend so much time in the hospital. But all I had to do was look to the left or the right and see a kid, a fellow patient, who was worse off. This perspective is not because I am so much more empathic than others, it is because I saw, literally, children who faced much greater challenges than mine and I thought to myself that I should be grateful.
My experiences continued to draw me to challenges, to people in situations far worse than mine and that is, in part, why I moved to the Dominican Republic.
In my time living in the Dominican Republic, I went from a somewhat privileged life where I had a big apartment in the central part of town. One room with air-conditioning (a real luxury there) nearly 24/7 power and water. Then times got tough and the peso lost nearly all its value, trading from 25 pesos to $1 when I moved there to 50:1. I billed in dollars so all my clients put their projects on hold which effectively took away all my income. I was pregnant with my son at the time.
I moved, out of necessity, to "que lado", the eastern part of the capital. The house was nice but it was in a "barrio", poor neighborhood with dirt roads and burning trash piles. My first week there the power was out for 3 days straight. When the power went out there was also no water as the pump didn't run. I had to heave 5 gallon buckets of water out of the cistern. I was 6-months pregnant and the father was never there. I was alone in a foreign country, pregnant and vulnerable, with limited power and water, in a neighborhood I didn't even dare to walk around.
But because I was pregnant I kept my spirits up. I wanted to bring my son into the world with joy in my heart. Life was tough and lonely there but I reminded myself that I had chosen to move to the Dominican Republic and I needed to take the good with the bad. I reminded myself once again to be grateful for what I could — the beautiful baby inside me.
I lived there for a year and a half. Ever so slowly business picked up, life got better and finally I made just enough money to move back to the center of the capital. Oh did I appreciate the little things then. Even if the power went out, there were places to go with light instead of the entire neighborhood plunged into darkness. I could walk to places…in many ways life was so much easier.
But compared to my life now, it was still very hard. Now I live in a very nice town, in a nice apartment complex with a community pool. If there are problems in apartment there is a maintenance crew who come immediately to fix it. In the Dominican Republic I had one apartment with a filtration problem and when it rained water would drip down in to the electric switches and flames would burst out. Forget about maintenance, there wasn't even an ambulance you could count on coming if you got electroculted. I've come a long way.
I have always lived by the motto "Happiness is a choice" and I truly believe this. Even before my experiences overseas I have tried to seek happiness in everyday things and let go of what makes me unhappy. I consider my time in the Dominican Republic to be a gift because I never take anything good for granted anymore. I miss their simple pleasures.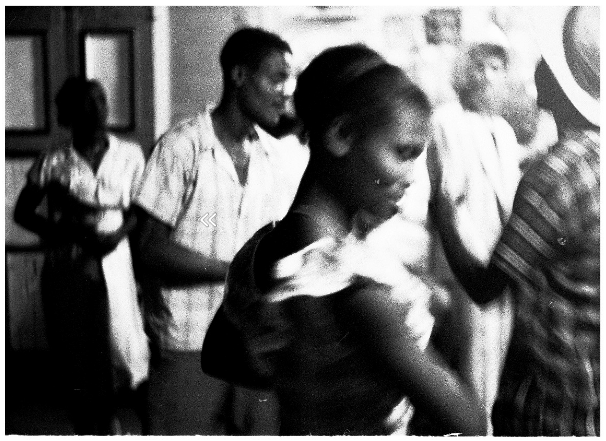 One thing about Dominicans that endears me is their innate musical nature. They have an almost involuntary response to music — they simply must dance. But the musical culture is not contained merely within the Dominican Republic, it is indicative of the island as a whole, the island of Hispaniola, in which both the Dominican Republic and Haiti call their home. In fact one could question which culture is more musical, Haitian or Dominican, much like one would wonder which came first, the chicken or the egg.
I love to dance too, always have, and I owe my first dance edification to this same island of Hispaniola. At the age of 9 during one of my visits in Haiti with my father, I learned to dance Merengue. I was in a big dance hall with my father and his friends. We were sitting up on the second floor balcony looking down upon a large dance floor below where many couples danced away. I remember the big skirts of the girls in many colors as they swayed to the music which was up tempo. The men wore straight slacks and short sleeve dress shirts. Some had white hats with a band. The music never stopped and the dancers never stopped dancing.
We had been at the club for hours. It was late. My father and his friends had been drinking, smoking, and ogling the girls. There were no other kids there. I was bored and all the fun was happening down below. I had never danced before but the temptation was irresistible and I've never been good at resisting temptation.
The adults weren't paying any attention to me so I slipped downstairs by myself and onto the dance floor. I had a pretty pink dress with yellow flowers, gathered in the bust with a full skirt and spaghetti straps. I went out to dance, by myself, the only kid on the dance floor, and after watching the couples for a while, taught myself to dance Merengue, or at least a close proximity. No one paid me any mind. They let me go and I had a blast.
For hours it seemed I danced. Back then I had a significant limp when I walked, one leg was nearly 5 inches shorter than the other, but on the dance floor it felt like I flew, I was hooked.
Ever since then I have loved to dance and Merengue, a musical style popular in both Haiti and the Dominican Republic, was a sentimental favorite. So it is no wonder that years later in my adulthood, when visiting the Dominican Republic, that hearing Merengue triggered a visceral response, ending in me moving there.
Back in Santo Domingo after nearly 8 months, the music is a soundtrack to my trip, always on, always a part of life. But what I love the most is how the music moves its listeners into dance, no matter when, where or what they are doing.
The music: Merengue, Bachata, Salsa, Reggaeton or even just a couple of instruments played on the corner, all have same effect — the feet move in a slight shuffle, the hips sway and the hands tap.
When we were at the resort for our mini honeymoon, they had a local band, traditional style from the campo (country) which played music. One waiter was particularly moved by the music and was unable to contain himself. He cleared the tables with a sway in his hips, sometimes adding a spin. He clapped his hands when they were empty and enthusiastic hoots burst out, all the while with a broad smile on his face. He was a middle aged man with a classic face of someone who works hard and enjoys the simple things in life. Music was one of them.
By contrast, our "cobrador" on the bus (the man who collects the money) looked about 19. He had the style popular with the urban hip hop crowd in the States — baggy jeans, backwards baseball cap — but when the driver put Salsa on, he slapped his hands against the side of the bus, shuffled his feet and sang along, just like the waiter. Different walks of life sharing and almost reflexive response to music.
There are a lot of things that cause strife on this small island between the two cultures that call it home. Haitians and Dominicans are different in many ways but they share they love of music and the irrepressible urge to move to the beat. Music and dance happens spontaneously for short bursts and long stretches, in discos and street corners, in fancy dress and work clothes.
On this island which has so much poverty, corruption, inflation, and complication, music and dance are free to enjoy. By enjoying and even indulging in music, Dominicans and Haitians keep their spirits up as they move through their day. I love that. We Americans love our quiet, our silence and our space. There is none of that there. One is thrust into the rhythm and the best thing is to relax and let the music flow through you.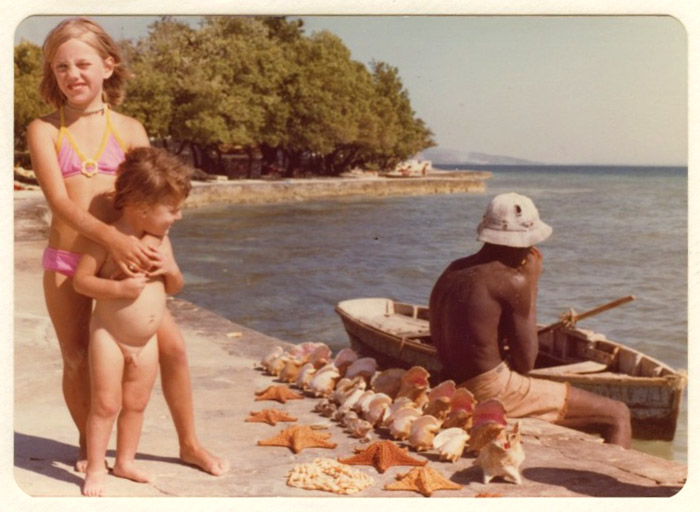 I traveled to Haiti three times with my father — first in 1976 for 6 weeks and twice more in 1978 and 1980 for 3 months. The first trip I was overcome, starstruck, by this different land with dark faces and lots of white, smiling teeth; grabbing hands and hungry bellies. It was all so exotic and intense.
On the second trip I was able to settle in, to experience the country instead of just react in awe. My father had been coming to Haiti since 1955 and he always stayed at this 'guesthouse' (former bordello) run by two boisterous, obese sisters: Georgette and Celeste. It wasn't until my last visit that I realized that it hadn't really left its bordello days behind. Instead I was blissfully unawares of the disproportionate number of aging white men, mostly French Canadian, and attentive young Haitian women.
It didn't bother me that there were no other kids there. They called me "petite poisson", little fish,  because I would  spend most of my time in the pool, diving for pennies. Up and down I dove and bobbed.
From my first trip to Haiti onward I lived with my father. Before then, my mother had custody of me and I was living with her in Maine. My father convinced my mother to let me travel with him to Haiti. She wanted to visit as well but couldn't leave at the same time so my father and I left first. My mother came after and stayed longer. Their arrangement was that when my mother returned, I would go back with her. But my father, the sly man that he was, filed for custody as soon as we landed back in the U.S. stating the reason of abandonment. My mother, who was in another country, could not argue.
My father was super dad on our visits, laying it on thick, but once I came to live with him everything changed. He spent all day staring at paintings and all night listening to loud jazz under bright lights and painting furiously. I did all the cooking and cleaning. I was only 9 when I first moved in.
He kept me out of school because I was handicapped as a child and he feared I might be hurt so I had no friends to escape to. I made the best of it I could and buried myself in books and my own creativity. I got through it.
But when we traveled to Haiti, everything was different. We got along, we had fun and I was happy.
I have one wonderful, vivid memory of being with my father on the roof of the little bungalo we stayed in. My father was painting in the hot tropical sun. He had a watercolor technique that he had invented where he would draw shapes with masking tape on the watercolor paper and then fill the shapes with pools of color. He could only paint this way in Haiti because he needed the hot sun to dry the color pools quickly. Then he would peel of the tape and paint more. He called these paintings "Haitian Energy Field" and they are the series, in his vast collection, that stands out above all the others for me.
So my father was painting and I was sweeping the roof with a straw broom. I was wearing a pink sundress that my father had a seamstress custom-make for me in the market center of Port-au-Prince. I remember enjoying the rhythm of sweeping, the beautiful day and the music which was my favorite of what my father played — old jazz before it got too important: Fats Waller, Louie Armstrong and the Nat King Cole trio. To this day, that's the only jazz I can really enjoy, the rest got ruined for me.
In between visits to Haiti, and the years after our last one, our relationship deteriorated significantly. The unfortunately result of immense talent getting in the way of the menial task of raising a child, or at least that's how my father saw it. But Haiti always remained special to us both. We had so many adventures! In our three trips together we traveled around the whole island. We climbed the mountain to see the Citadel; we stayed over in Pilate, dubbed "the town the zombies built"; we got lost many times; we got shipwrecked and rescued by the U.S. Coast Guard; and we went to many Voodoo ceremonies — the real ones, not the tourist displays. It was a thrilling time for me at such a young age, a time I will always treasure.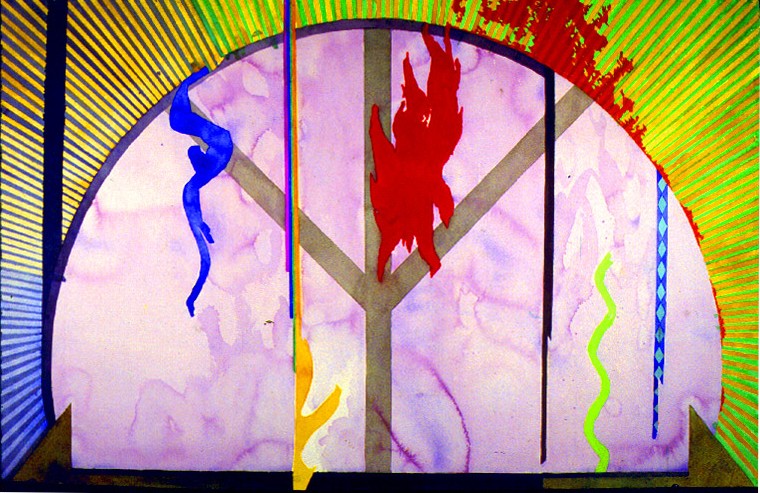 I wish I had more time to write. I have so many posts swirling in my head at all times. I write and rewrite them over and over in my mind but rarely do I have a moment I can sit down and compose them. Often I have to jot them in spurts on paper… which is what I am doing now.
For more than a year I have wanted to introduce another section, another culture to my blog by writing about my childhood in Haiti.
Technically that's not accurate as I didn't spend my "childhood" in Haiti, nor as Steve Martin says in The Jerk was I "born a poor black child." But what is true is that I went to Haiti three times as a child, first in 1976 for six weeks and twice more in 1978 and 1980 for three months each. Although my total time in Haiti was less than eight months of my entire childhood, what I experienced in Haiti, and the impact in had on my life is immeasurable. Case in point, as an adult I moved to the other half of the same island of Hispaniola that Haiti shares and lived there for eight years. I am still grieving my departure.
My father, David X Young, first went to Haiti in 1955 after receiving a Fulbright Scholarship to paint there. Drawn by the African rhythms, French influence and tropical climate, my father fell in love with Haiti and returned there nearly every two years until his passing in 2001. In Haiti, my father painted furiously, drank plenty of Barbancourt rum and enjoyed the beautiful women. He found the island enchanting and a muse for many creative projects.
In 1976, when I was only nine, my father decided it was time to introduce me to his great love. I was living with my mother under her custody and after many negotiations, she agreed to let me go with him on the premise that she would go to Haiti as well three weeks later.
My life up until then had been intense and tumultuous. First hospitalized at three months for an overdose of Vitamin A, I was in the hospital so much as a child that it felt like a second home. Family life was intense as well since my parents had become enemies since my infancy and the custody battle was bitter. In 1976 I was living with my mother in Blue Hill, Maine with my brother Jacob who was just a toddler. My mother and her second husband were not getting along and soon separated. She was pregnant with my second brother Gabriel.
As happens in families, I felt like I wasn't getting enough attention at home. At school I was either completely ignored or teased mercilessly by my classmates because of the way I walked. I felt like I wasn't wanted anywhere and didn't fit in. So even though I had no idea what to expect, I was excited to go to Haiti mostly because I was going to be somewhere different than where I was. But I had no idea how different…
My first memories of Haiti are filled with color, inquisitive hands, dark faces with flashes of white eyes and teeth, ripe fruit and music. Squalor and vibrance were side by side, all moving to the beat of drums. In Haiti I felt awake in a beautiful dream. There were no custody court dates, no doctors testing and probing, no classmates jeering, no one asking me what was wrong with my leg. In the United States complete strangers would ask me what was wrong with my leg. It made me feel vulnerable and naked. If it was an adult who asked I felt like I had to tell them but I didn't want to, I didn't want to be defined by my physical limits. Yet a little girl with a limp was all I was… over there.
In Haiti I was a magic child with magic hair — long, blonde, straight hair that all the kids wanted to touch. Little kids, many as dark as I had ever seen, often naked, always without shoes, and distended bellies which at the time just made them look comical versus sad. To me they weren't poor, starving children — they were playful imps with outstretched hands always reaching for me while constant smiling,  finding joy in the simplest of things. In Haiti I was not "imperfect" but exotic, exciting and completely welcome. It was such a special feeling.
I embraced Haiti immediately, learning to chomp on the sugarcane until the sweet juices flowed, accepting magic as an every day occurrence, and having oodles of adventures. I have so many stories to share…
So it is no wonder that 26 years after my first visit, when I was invited to teach a summer class at Altos de Chavón in the Dominican Republic, I felt so much at home. Even though the Dominican Republic is a very different political animal than Haiti, from my memories as a child, there was a lot of similarities: same colors, same light, same music (Merengue), same fruits…same island. I was flooded with sense memories and I knew I wanted to stay.
If it wasn't for Haiti I would never have moved to the Dominican Republic, that seems obvious to me. But Haiti's influence was even more profound. Because of my childhood experiences in Haiti, where I felt more at home than I did in my own county, I was forever drawn to other cultures and other places. Ever since I remember I have wanted to live outside the United States, not because I didn't like my country but because I was so fascinate with other places. So I feel like I spent my childhood in Haiti, or at least the most important part. Now, as part of a multicultural family, I see how much it has shaped me into who I am today.