Above: My son Marcos, diving into a bite of the cooked chicken.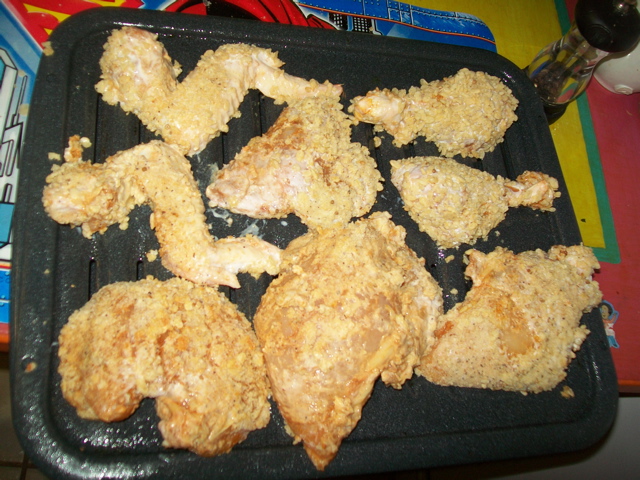 This a great, low-fat version of fried chicken with an Indian spice kick.
Ingredients
1 whole chicken cut into pieces, fat trimmed and skin removed
1 tsp paprika
½ tsp cumin
½ tsp curry powder
½ tsp salt
½ tsp pepper
½ lime squeezed
1 tbsp oil
¾ c white flour
½ c lowfat buttermilk
2 c rice crispies or panko coating
1 tsp coriander seeds
½ tsp black peppercorns
½ tsp poppy seeds
Instructions
In a baking dish, put the first 8 ingredients (chicken - oil) and mix well with your hands so that the chicken is complete coated. Let sit for 30 min.
Put the flour in a plastic bag.
Pour the buttermilk in a shallow pan.
Grind the seeds: coriander, peppercorns, poppy with a mortar and pestle. Add a dash of salt if desired.
Put rice crispies in a bag (if using panko skip this step) and crush. Pour rice crispies into another shallow pan and mix with the ground seeds.
Take piece of chicken and put it in the bag, turning it to fully coat. Shake off excess flour.
Dip flour coated chicken into a pan with the lowfat buttermilk and coat thoroughly.
Then dip chicken into the rice crispie mixture and coat. Place on greased baking pan.
Cook at 425 degrees for 15 minutes and then reduce heat to 375 for 25-30 minutes.