Cooking at home does not have to be a big production. I know it can be daunting for those of us with busy schedules. I mean who doesn't have a busy schedule these days? I certainly do. So how do I have time to cook at home every day? Am I some sort of super cook? Hardly.
The secret is in the tips I'll list below. Sure there is a learning curve to learning your way around your kitchen, but you can do with a little practice and soon you will be whipping out healthy, home-cooked meals with the efficiency of a short order cook.
My Cooking Tips:
Always start with the freshest, highest quality ingredients — Cooking at home saves you money so you can afford to buy better ingredients to cook with. Instead of those frozen fish filets and oven fries, you can buy some salmon, fresh asparagus and a sweet potato, for example. Each of these ingredients if purchased fresh and when at their peak, require very little seasoning or special preparation to make them taste good. So your meal comes together very quickly with a minimum of fuss.

Barbeque chicken (sprinkled with sesame seeds), green beans and baked sweet potato

Keep it simple— So if you have good ingredients, you need less seasonings, sauces, breading, etc. which are extra steps, take time and add unwanted calories. Even if you are an ambitious cook, it's actually better for you to follow the French way – simple, fresh food where the natural flavors of the ingredients are featured versus smothered in other flavors (no cheese on my broccoli please). As much as I love to read cooking magazines, I feel a lot of recipes have too many unnecessary ingredients just to make them sound good. Don't feel you are cheating by keeping it simple, it's actually more sophisticated. Here are my favorite, simple ways to cook fresh veggies. What are yours? I'd like to hear…
potatoes, carrots, butternut squash & beets — cover with water, boil until fork tender; drain (but save carrot & beet water for soup!) and toss with a pat of butter and salt and pepper
artichokes, asparagus & green beans — bring a small amount of water to boil, add veggies and boil/steam until bright green and fork tender (artichokes take the longest so test to see if the leaves pull off easy). For asparagus & beans toss with a pat of butter and salt and pepper; for artichokes I melt olive oil and butter and then squeeze in lemon for dipping.
sweet potatoes — poke with a fork several times, rub oil on the skin, place on a piece of tin foil on oven rack and bake at 425 until tender
broccoli & brussel sprouts — sprouts slice in half / broccoli into florets, toss in olive oil and kosher salt, place on cookie sheet and roast in oven at 425, turning once. They come out sweet. This also works great with other root veggies such as: parsnips, rutabaga, turnip, celery root, etc.
spinach & other leafy greens like kale, swiss chard — wash remove stems/thick spines of leaves, chop and then heat 2 tablespoons of olive oil in a big stockpot. Add greens and stir. When soft but still bright green, remove from heat and squeeze a half a lime or lemon with a pinch of salt.
acorn squash — cut in half, poked with a fork and seasoned with a pat of butter, salt and pepper, sprinkle with brown sugar. Bake at 425 until fork tender.
Cook for for more than one meal — As much as I like to cook, I have just as busy a schedule as most everyone else so I need to find shortcuts. One easy way is when you cook, make enough for more than one meal and freeze the extra for use on a day your time is short. This way you can eat home cooked meals at home without cooking every night, just reheating. This technique has been a life saver for me.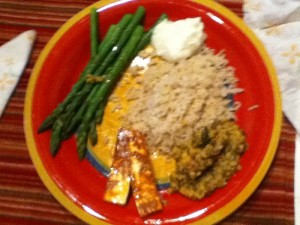 Mix and Match Components — I try to keep meals different from one day to the next so I take the concept of #3 a step further by cooking mix and match "components" of meals that can easily be frozen and then later combined into a different meals. Here are some examples:
beans — cook soaked, dried beans with no seasoning and then saute some onions and garlic in a little oil, add salt & pepper and other seasoning to taste, mix in the beans with 1/4 green chilis. Now you can use these beans whole in chili or over rice, mashed or pureed in tostadas, burritos and enchiladas.
ground meat — brown the meat (ground turkey or chicken will be the leanest) with chopped onions and garlic, salt & pepper. The meat can then be combined with the beans for chili, with macaroni, with rice and stuffed in peppers – there are many options.
shredded chicken/turkey — boil raw chicken or turkey pieces with a little salt (save the water for stock), and when cooked and cooled, shred the meat into small pieces which can be used in a variety of recipes.
pureed veggies — a great way to incorporate veggies into your meals is by boiling or sauteing them and then blending them into a puree. Mix this puree into spaghetti sauce, meat loaf, and savory breads. Especially good for puree are zucchini, summer squash, eggplant and chayote.
Keep your pantry stocked with key ingredients— A great way to make fast and delicious meals is to have high-flavor ingredients on hand to add to a simple dish. My favorites are:
anchovie paste
white miso
artichoke hearts
feta cheese
olives
sun dried tomatoes
nuts
balsamic vinegar
fancy oils for drizzling — pumpkin seed, walnut, avocado, truffle are all good choices or even just a super high quality extra virgin olive oil
wine — save some for cooking too 😉
good quality hot sauce
dried chilis
Invest in the right equipment— there are tons of kitchen gadgets and tools but only a few I could not do with out. Having the right equipment makes all the different when trying to get a meal done quickly. Here is my short list for every day meals:
whisk — for blending sauces, mixing eggs

food processor – a blender is great for liquids but in most meals, I find I use a food processor way more for pureeing beans or veggies

cookie sheet — for roasting vegetables

large pot – for boiling, braising and making stock/soup
chopping knife
cutting board
mixing bowl
pressure cooker — if you get a good one, you can prepare delicious meals in minutes with tons of health benefits because the vitamins stay locked in
So what is on your list? I'd like to hear.