Avocado Lettuce Wraps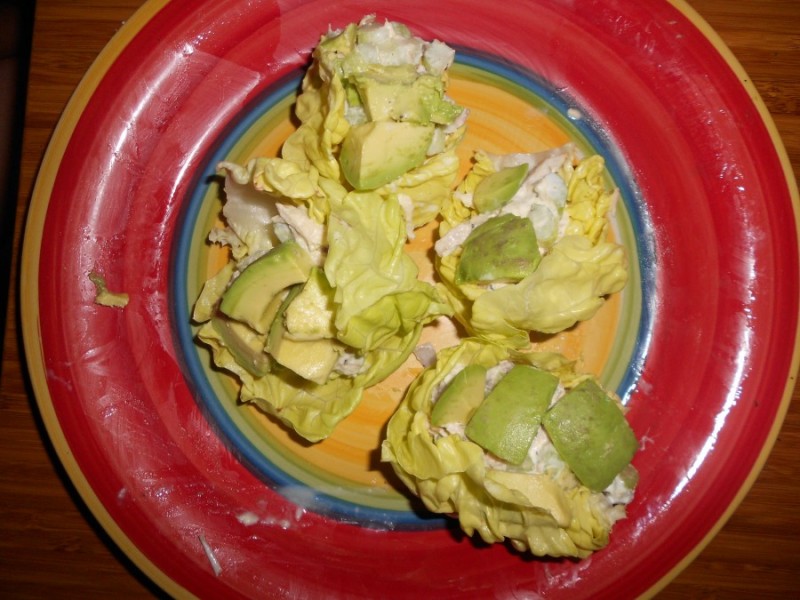 I have always eaten healthy (most of the time anyways) but lately, in my effort to slim down, I have really been put to the test. My trainer currently has me on what he calls a fuel/fire cycle. On the fuel days I keep my calories under 1300 and my carbs under 90. That's enough of a challenge once you realize that everything has carbs practically — even lettuce! But on my fire days it's even harder because he wants me to keep my carbs under 35. So obviously I don't eat any direct carbs like bread, pasta, rice, etc. but just finding tasty meals that I can enjoy is difficult.
Here is a recipe I came up with that is very tasty while being very low carb — only 7 grams of carbs per serving — so eat up! For a Lean & Green meal, eliminate the onions and use just yogurt to mix.
Avocado Lettuce Wraps
Tasty and light yet packed with protein
Ingredients
one can of albacore tuna packed in water, drained or chicken breast
3 stalks of celery minced
half a medium red onion minced (about ¼ cup)
1 tbsp regular mayonaise
½ tsp dijon mustard
½ tsp horseradish
1 tbsp 2% FAGE greek yogurt (the yummiest in my opinion)
salt and pepper to taste
1 Haas avocado cubed small
bib lettuce
Instructions
Mix all ingredients through salt an pepper
scoop mixture into the bib lettuce
top with cubed avocado
(a dash of hot sauce is great for a kick and color or just dust with paprika)
Notes
Serving size 3 small wraps