Llegó Papá (Dominican Hipocrisy)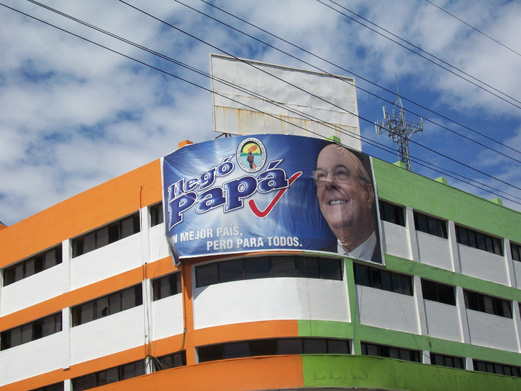 Above: [Translation] Father has arrived! A better country, but for everyone.
Next year is election year and one of the candidates is former president Hipolyto Mejia. He was president when I first came to the Dominican Republic in 2003. When I got to Santo Domingo the peso was trading at 25 to 1 dollar. Within 6 months it was trading at 50 to 1. What that means is that it was great for tourists because the dollar was worth more but it crippled the Dominican economy. I had quoted a job in pesos that was supposed to be worth $1000 dollars but what I earned was $500. Prices skyrocketed, projects were cancelled or delayed indefinitely. It was very bad and I had just moved there.
Rafael Hipólito Mejía Domínguez (born February 22, 1941, in Gurabo, Santiago Province) is a Dominican politician and former President of the Dominican Republic. He served from August 16, 2000 to August 16, 2004.

During his government the country was affected by one of the worst economic crisis in his history, generated by the bankruptcy of three major commercial banks in the country, which resulted in high inflation, high country risk rating, currency devaluation and increasing local poverty. [source]
This is all recent history; it's been less than 8 years since he left office.
Former president Hipólito Mejía left office a millionaire even as most of his countrymen saw deepening poverty. While earning a presidential salary equivalent to $2,400 a month, Mr. Mejía, a former agronomist, raised his assets to 46.5 million pesos, or $1.26 million at the current exchange rate, from 19.7 million pesos in 2000, a declaration of wealth made public on Thursday said. Defeated for re-election in May, he left office last month. Many in his Caribbean nation of nine million fell into poverty or lost jobs after a major bank collapsed in 2003. [source]

Its economy, which until recently was the Caribbean's most robust, has been thrown into upheaval in the last year after a banking crisis depleted resources needed to keep the nation's lights on.

President Hipólito Mejía, who lost a re-election bid in May, has shown little inclination to confront the issue, attributing much of the blame for the power failures to Leonel Fernández, who returns to the presidency on Aug. 16 after a four-year hiatus. Much of the nation's generating system is owned by foreign investors, who bought their stakes during Mr. Fernández's previous term in the late 1990's. [source]
Having lived in the country during Mejia's fall, it is beyond ironic to me that now, just a short time later, he is running for president and being lauded as the 'forgotten father' who has come back to take care of his country. How quickly we forget.
Of course, his successor, Leonel Fernández, is not much better. He also served one term, too a break and returned triumphant. He has also been linked to corruption and scandal. I don't think there is anyone honest in Dominican politics or any politics for that matter. But, Leonel has at least stabilized the peso and the country, which although is struggling, is not in crisis as with Mejia. It's just shocking to me considering how he left that Mejia would be returning with such fanfare.