Indian Cultural Society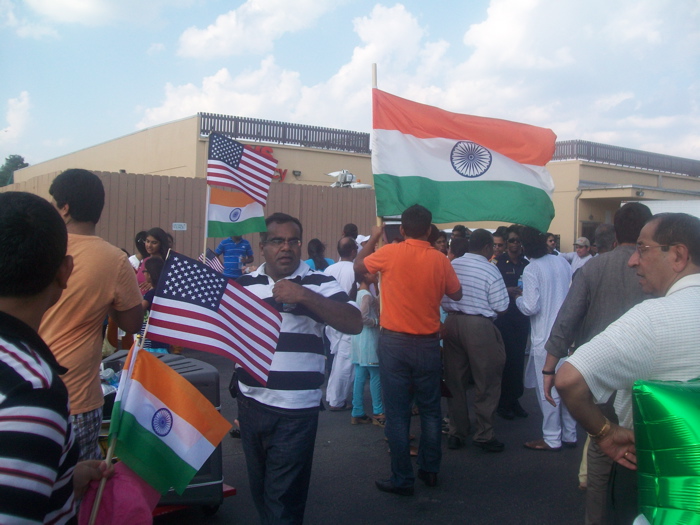 Ever since I have returned from the Dominican Republic I have felt exhausted at least 80% of the time. I'm used to the intensity that follows one of my trips — all my clients in the U.S. waiting for my time and their projects. And I knew that this trip would be extra intense because a week after I returned I would be moving into my own apartment after over a year of living with my mom. But in addition to all that add the fact from the Dominican Republic I flew to Orlando and then drove immediately to Boca Raton for the release of the magazine I designed, Palm Beach Woman. All very exciting indeed but what I wanted most was a vacation from my "vacation" which if you read my travel journals, was actually a lot of work.
So then the kicker was just a few days after driving up from Boca Raton, with the kids still clinging to me as if I was going to leave again, what happens but I have an accident with my car, on the way back from seeing my new apartment. Bam! My car was totaled. Thankfully no one was hurt.
My move into my apartment, which happened a week later, was anti-climatic. Instead of stepping into my independence, I moved but had no transportation for over a month and was thereby more dependent on my mom who was now farther away.
All I could do was make the best of it; be grateful I had the help and hope it would all work out. I tried to find fun things to do that weren't a strain on the car or my mom's time which is what led me to the plans of last week: a celebration of India's Independence day which was hosted by the Indian Cultural Society of Jacksonville, Florida. I registered online and the website said that if you sent an R.S.V.P. then you could receive a free Indian meal after the show. Missing my sweetheart, I thought this would be a nice way to feel closer to him, get to know a little about the Indian community where I live and to introduce my kids to Indian culture a bit more. Good intentions.
First there was to be a parade where we needed to pick up our dinner tickets and after was the show. I mistakenly assumed the whole event was taking place in one location, the high school they posted on the website, but when we got there it was all gated up with no sign. A phone call later we finally found out that the parade was taking place a few miles away. We got there but no sign of the parade, just a few tables with Indians sitting at them. I knew we were in the right place. We got our dinner tickets; I enjoyed seeing all the Indian families come by, many women in saris. Beautiful colors.
I asked about the parade and they said it would be coming by so we waited, and we waited. Finally the parade ended where we were so we didn't actually see any of it. Then they said to meet in an hour at the place we went before which was all gated up. Now what to do with an hour? — shoe shopping for the kids.
So we get to the high school and they have a "show" in the auditorium which consisted of a few dance performances to really really loud music. The costumes were great but so were what most of the audience was wearing. The bad part was the show went on for 2.5 hours. The kids were starving. It was now 8:30 and the show was a finally over but they still weren't serving the dinner. I regretted my decision to stay, thinking we would be eating much earlier, and now if we left the kids would fall asleep and eat nothing.
The cafeteria was set for the dinner but they wouldn't let us in. We were right in front waiting and a crowd started to form. Every one was hungry and cranky. Finally they opened the doors to the cafeteria and we felt a surge from the crowd. Thankfully there were two burly police officers manning the doors and they ordered everyone back and we got in safely. I was scared for a minute that we would get trampled.
Finally we ate. The food was great but portions were too small. Kids were still hungry. We ate what we had and went home. Both kids crashed in the car as soon as they got in.
The event was the worst organized I've ever been to but I'm still glad I went and saw the breadth of the Indian community here and ogled all the beautiful clothes. I had been hoping for a sense of connection, to be moved or inspired but I didn't get all that. Instead it was beautiful but chaotic. I most wished hadn't talked my mom into going. I felt responsible for her frustration.
Now, a week later, I have a car again and the stress is slowly subsiding. Nothing is quite how I want it but it is getting there. Al paso… as they say in the Dominican Republic.