In the two weeks since my last post we have moved fully into the Christmas season but for me personally, the season has been a dark one. First, I received news that I was denied disability, something I've been trying to get for two years now. I'll post more on that another time but I know I will eventually get it, just will take more time and effort to get there. Then there was news of the sudden passing of a young woman at my son's high school. I did not know her but as a parent of teens myself, I felt the pain of such a loss. But finally the darkness hit close to home when I heard the news of the death of a friend.
I thought that by blogging about her was the best way I could honor her memory and her impact on my life. Her name was Lindsay de Feliz and her wrongful death will one day be chronicled in a true crime episode I'm sure. Of British origin, she was murdered in the country she called her home, the Dominican Republic, a country that for 8 years I also called my home. It appears that those close to her were involved; her Dominican husband and stepson have been arrested. She loved the Dominican Republic and if she could speak from the dead I'm sure she would still love it. There are bad people everywhere, tragedy does not have a race, gender or nationality.
I do not wish to write about how she died. It hurts to think about it. I wish to share a little bit about how she lived.
We became close in 2008 when my relationship with my Dominican husband was ending. I had reached out to the expat community in the Dominican Republic and she responded with friendship and advice. At once point I went out to visit her home which was in Juan Dolio, about 45 minutes outside of Santo Domingo where she lived. I went there with my two children, my daughter Elsa who was just 2 years old and my son who was 4.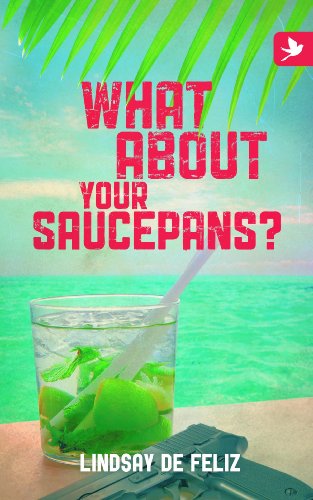 Lindsay not only welcomed my family into her home but she was very open about her life all all that she had been through up until then. She can tell her story better than I can. She wrote about it all in her first book What about Your Saucepans? which became a best seller on Amazon and then wrote a followup book and was working on her third book when she was murdered.
Lindsay had several large dogs in her house when we went to visit and I remember how my little daughter was so comfortable around them. Lindsay and I spoke about this often.
Lindsay introduced me to other expats which greatly helped during the difficult time of ending my relationship with my husband. I remember her tell me "Dominican men will always cheat if they are able but they need money to support a mistress. So, I control the money." She was very practical about her marriage and her expectations of love. I admired her ability to manage it that way.
Then my life took me away from the Dominican Republic and we stayed friends through social media. We worked on projects together, a website called DR Sisterhood that she developed to help other expat women in the Dominican Republic. I followed her blog and she followed mine. Most recently I shared that I am working on my autobiography and she was very encouraging. She introduced me to a writer's group, a potential publisher and expressed an eagerness to read it when it is done. She was always a positive, uplifting person. She will be missed.
I heard the news first two days ago. That evening was a Christmas concert at my daughter's school called "Carols from the Dark Side". The concert was performed by the high school band. At one point, two girls performed "Silent Night" in tribute to their classmate that had recently died suddenly. I sat listening to the music thinking about the death of this girl so suddenly and my friend so tragically, all while hearing the beautiful melody. Tears streamed down my face.
The world has lost a special light in her passing.