Coconut Shrimp Risotto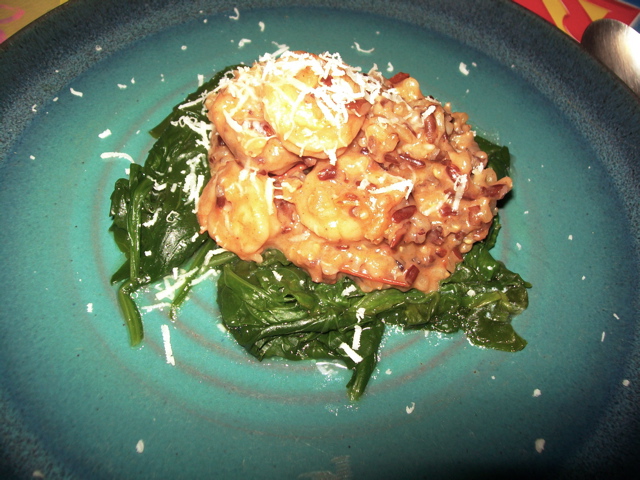 Above: Plated on steamed spinach with fresh grated Parmesan on top.

Creamy and delicious, this dish is very healthy if you use brown rice.
Ingredients
1½ tbsp olive oil
1 large onion minced
2 cloves of garlic minced
1½ c brown rice
1½ c raw shrimp peeled and de-veined
2 c coconut milk
1 tbsp butter
2 tbsp parmesan cheese
1-2 c vegetable stock
handful of fresh basil leaves
2 c diced tomatoes, preferably fresh
Instructions
heat the oil in a pan
add the onions and garlic, salt and pepper to taste
saute until glassy
add uncooked rice-- do not rinse
cook on medium low heat for 5 minutes
add butter, parmesan cheese and coconut milk, stir frequently for 15 min
add tomatoes, cook down while stirring often. make sure heat stays low
add stock as necessary for rice to be cooked through but not soggy
toss in basil right before serving
Notes
Yummy with steamed spinach or other fresh greens, and bread.
sdfsd