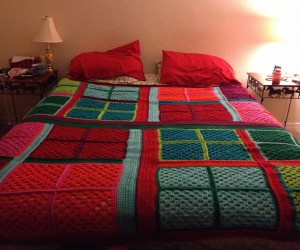 When the cat's away, the mouse will…crochet! Silly I know but hey it rhymes… Well I haven't posted in the Creativity section in a while which is lapse of me. The reality is that I am always doing something creative, actually more like 2-3 things. In my youth I compared it to…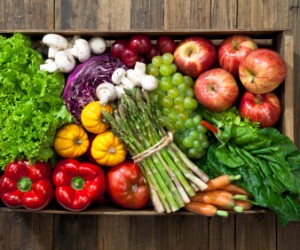 When you are first diagnosed with cancer, you realize you are in for the fight of your life. Then come the treatments that can be very exhausting. When you are in such a serious fight, you will want all the weapons at your disposal. The doctors have done their part. But there…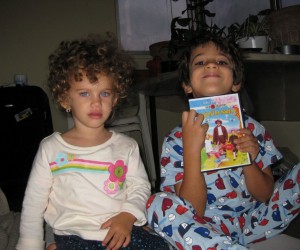 Above: Circa 2009, Elsa and Marcos after receiving a present from their Nana — it didn't take much to make them happy. The other day my ex and I saw something on the news about the Dominican Republic. We saw a picture of a rainy, flooded street and it brought back a…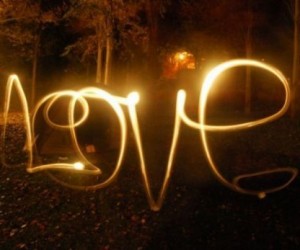 A few months ago an Indian woman that I didn't know asked to be my friend on Facebook. This was on my personal profile, not Amor y Sabor's Facebook page. This happens a lot actually because of the blog and I usually accept because I consider all Facebook to be public anyway….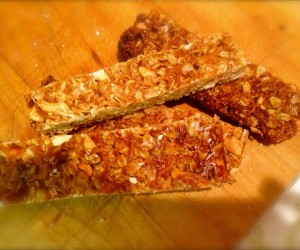 Granola bars are a healthy, portable snack bu I dislike using processed foods, especially in quantity, so I decided to investigate how hard it would be to make my own granola bars. This is what I came up with. These are so easy and so good for you. I have practiced this…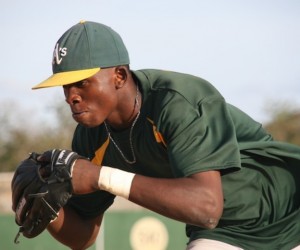 Due to my experience and writing in this blog about the Dominican Republic, I was contacted by the filmmakers for a new film called The Miguel Sano Story which is a a followup to their documentary called Ballplayer: Pelotero. I am always happy to oblige when it comes to supporting the arts…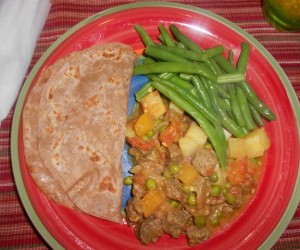 Today is Saint Patrick's Day and I will be cooking a traditional Irish meal of corned beef and cabbage but last week I made a delicious winter stew with Indian flavors that was worth a share. Lamb could be substituted for beef as well. Indian Winter Stew Print Prep time 30…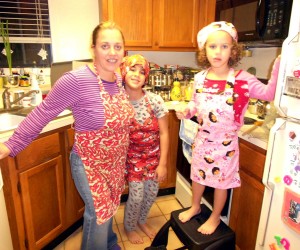 It's very interesting to watch American television with my ex, especially us both having lived outside of the U.S. for so long. I see our culture as a foreigner. So what do I see? I see dramas filled with crimes, medical conditions and dysfunctional families. I see silly comedies where the characters…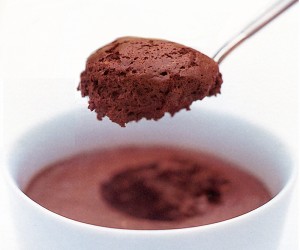 Above Photo Credit [Source] — I don't have my own photo (yet) because we ate the mousse before I could take one! Ladies…we love our chocolate. Not to exclude you gents but we ladies really love our chocolate. But we don't love the guilt, the fat, the extra inch on our thighs….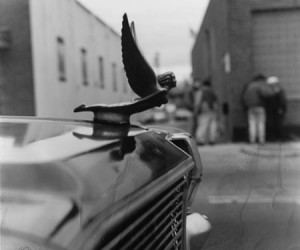 Above: "Hood Angel", Photo @ Eliza Alys Young dream [source] noun a succession of images, thoughts, or emotions passing through the mind during sleep the sleeping state in which this occurs an involuntary vision occurring to a person when awake an object seen in a dream a vision voluntarily indulged in while awake; daydream; reverie…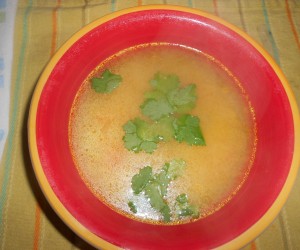 As everyone knows, it is flu season.  Many will go the traditional route and get a flu shot which is fine if that is what you prefer but I believe in the healing power of good food so I bucked the norm and chose not to get a flu shot for anyone…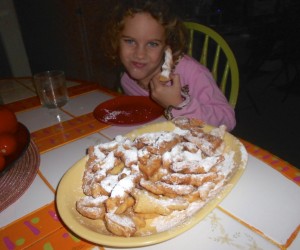 These have been likened to funnel cake or beignets and I would imagine they are very similar. Angel Wings, also know as "Krusciki" are Polish in origin. Little bow-tie fritters that are fried and dusted with powdered sugar. Like the jam cookies, they are not overly sweet. Best served hot as they…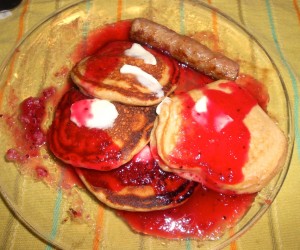 Photo above: Cranberry syrup on vanilla pancakes I love cranberries and they are not just for Thanksgiving! Here are two recipes that work together and highlight this lovely flavor. Cranberry Syrup Print Prep time 15 mins Cook time 10 mins Total time 25 mins Super easy to make and a…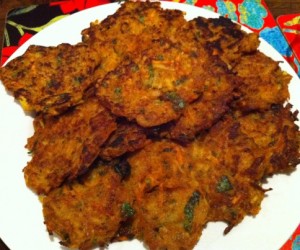 [Photo Credit] This a a great recipe that is easy to make and to vary. Similar to latkes but with a different taste. Can be a snack by itself, served with chutney or even ketchup, a part of a brunch, or a side dish. The hot tip is soaking the potatoes first…