Posted on January 17, 2013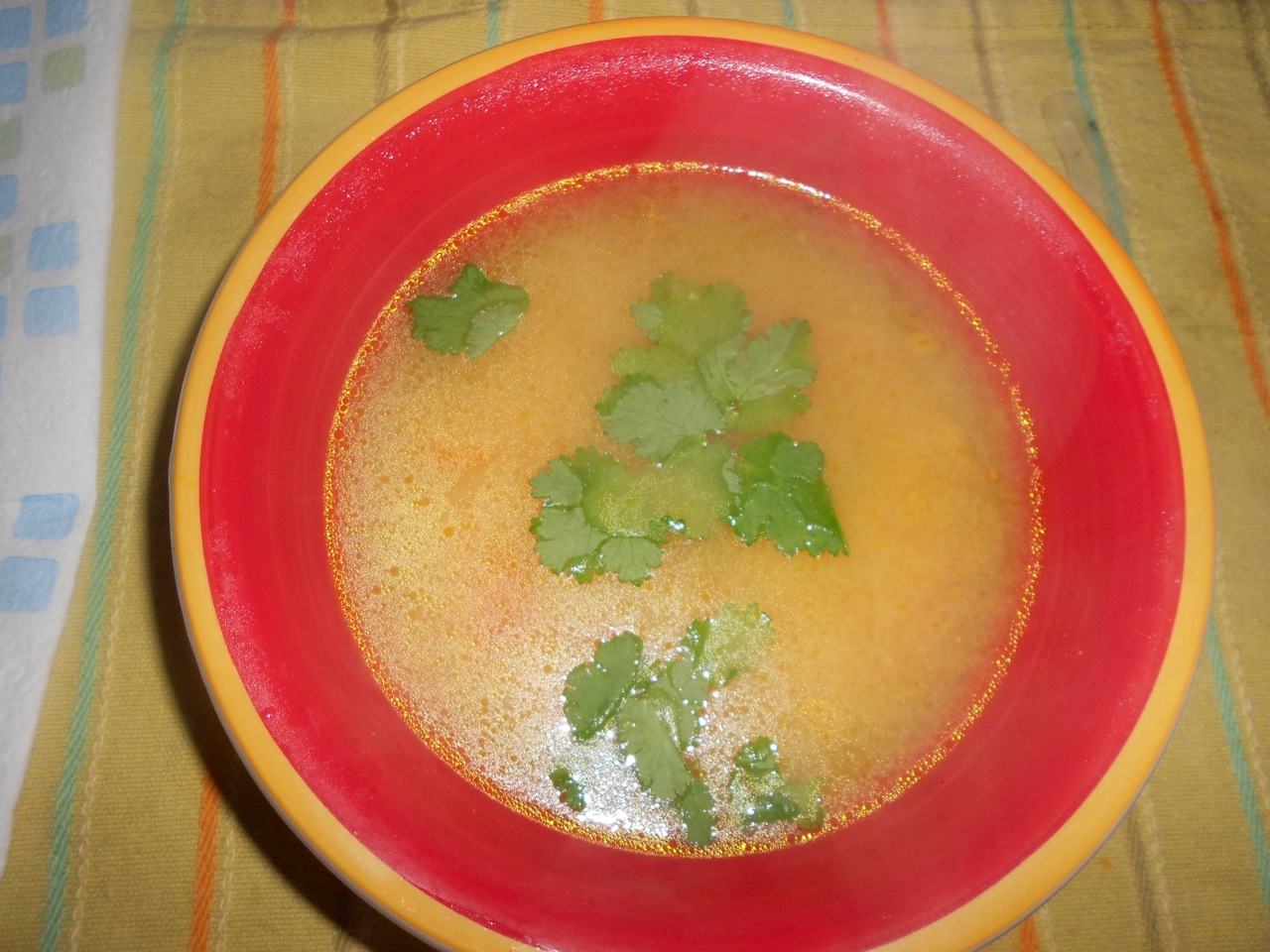 As everyone knows, it is flu season.  Many will go the traditional route and get a flu shot which is fine if that is what you prefer but I believe in the healing power of good food so I bucked the norm and chose not to get a flu shot for anyone in my family.
You see I believe that in our day and age we come into all sorts of toxins: in the air from cars, pesticides and factories; in our home from cleaning products, beauty products, unfiltered water; and directly in our bodies through what we choose to put into it: medicine, alcohol, tobacco, processed food. Everyone knows that tobacco is bad for you and alcohol should be moderate but in our culture, we tend not to think about the other two: medicine and processed food.
When it comes to medicine, I believe there is a time and place for it. When  you cannot solve a medical condition through natural means then medicine is necessary. It shouldn't be an automatic choice, in my opinion, but a last resort.
But it is processed food that I think is the real mystery for most people. We all know we need to eat better and we all say we try but for many the excuse is time. We simply don't have the time to cook fresh all the time so we don't. For me it takes time regardless, it is just that if you eat processed, the time comes in the form of increased susceptibility to sickness or worse, a serious health issue. Therefore, it takes a little more time each day to prepare fresh food for you and your family but, as I have written about before, if you get organized and keep the meals simple  it is not too bad and it will save you time in the long run.
So for this flu season, I practiced what I preach and did not resort to medicine and just relied on healthy food to get us through it. Did we get the flu? My youngest did, she's 6, and she had a fever for 3 days. I let the fever run its course, monitoring it but not giving her medicine, and fed her this soup listed below. My son also got a fever but never got the flu (we had them both tested to be sure). I only got a scratchy throat and Karan got the sniffles. All in all, the virus didn't get us, at least not very hard, and that is testament to the power of healthful, pure, food eaten daily.
So while you are trying to figure out how to cook more, here ia a recipe for a thin, vegetarian soup that will help you get through flu season. It is power packed with nutrition.
Flu Fighter
Packed with powerful ingredients to help you get through flu season.
Ingredients
½ c minced celery
½ c minced shallots or green onions
¼ c red lentils
1 c cubed butternut squash (1/4″ cubes)
1 medium tomato chopped
1 tbsp ginger minced
1 tbsp turmeric minced (may substitute powder if fresh is unavailable but won't have the same effect)
2 tbsp white miso
6 cups vegetable broth (you can save stock from cooking vegetables)
1 tsp ghee or olive oil
cilantro for garnish
Instructions
soak lentils in warm water for 1 hour, drain
in a ceramic pot or big soup pot, add the ghee or oil, saute the onions until glassy then add the celery, then the squash, the turmeric and ginger, spacing each out a minute or two to cook down.
add the tomatoes and cook until the skins start to break down.
add the red lentils and the stock. cook until lentils are soft on medium-low heat, about 1 hour.
add miso and mix well, reduce heat to low, cook another 5 minutes and serve with cilantro as a garnish
We all ate this soup during this flu season and I can attest to its healing power!
Posted on October 11, 2012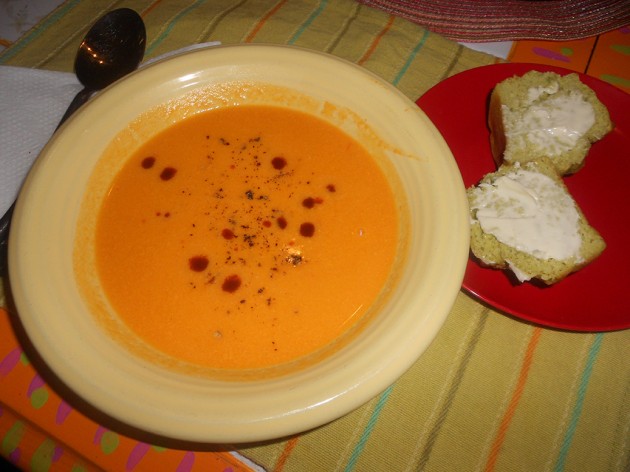 Butternut Tomato Bisque
You have to use all fresh ingredients to get the right taste.
Recipe type: Soup
Cuisine: Vegetarian
Serves: 8
Ingredients
4 medium tomatoes chopped (approximately 5 cups)
2 cups cubed butternut squash
1 leek sliced thin (white and pale green parts only) or 4 scallions
1 tbsp white miso (available at most asian markets)
½ tsp tumeric
1 tsp salt
1 can evaporated milk
2 tsp ghee (clarified butter) or olive oil
fresh ground pepper and a dash of hot sauce to garnish
Instructions
Heat the oil in a ceramic covered cast-iron pot (works best) or other stewpot
Add salt and tumeric
Saute the leek or scallions until transparent
Add the tomatoes and cook down for 10-15 minutes on medium-high heat
add butternut squash, miso and 6 cups water (chicken stock is optional but not necessary if the ingredients are fresh)
Cover, reduce heat to medium low and cook down for one hour
Using an immersion blender or in batches with a regular blender, blend until smooth. If you are a purist, pass through a strainer and return to pot.
Add the can of milk, turn off heat and stir.
Posted on February 5, 2012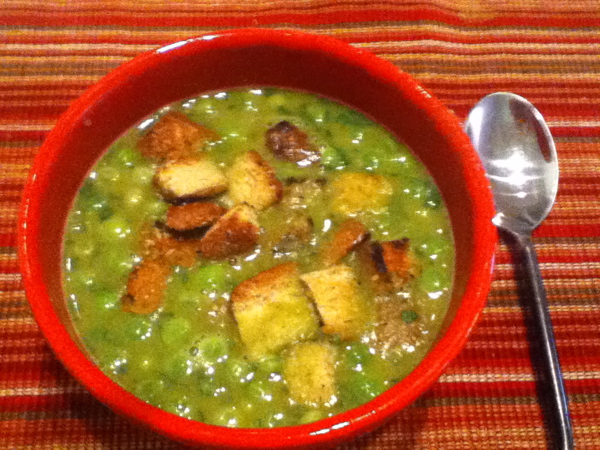 This is a great recipe for using dried peas and the taste is light and fresh. I adapted this from a book of Indian recipes.
Green Pea Soup with Mint
The frozen peas added at the end give the soup texture and a fresh taste
Recipe type: Soup
Serves: 4
Ingredients
1 cup dried whole green peas
2 cups fresh spinach
½ cup fresh chopped mint
Juice of one lemon (approx ¼ – ⅓ cup)
1 cup frozen peas
Salt & Pepper to taste
1 tsp grated fresh ginger
Croutons tossed with parmesan cheese
Instructions
Soak peas for 8 hours, drain water completely and then cover with water again (approximately 4 cups)
Bring peas to a boil (don't add any salt) and cook until tender
Add spinach, salt & pepper, and lemon juice
Blend mixture with an immersion blender or blend in batches in a standing blender
If the soup is too thick, add more water and bring to temperature
Add frozen peas and mint; turn off and stir.
Serve with croutons
Posted on December 13, 2011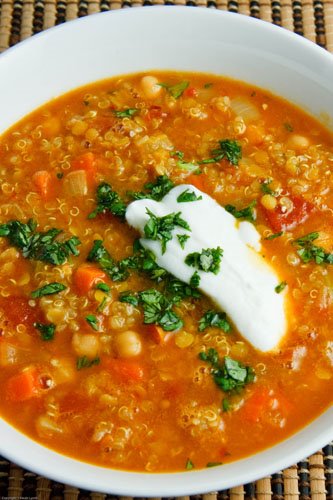 Lentil soup is a great winter meal. Lentils are a staple in India and they believe that eating them helps rid the body of fats.  Lentil soup can be made creamy like split pea or more liquid can be added to make it brothy. Shown here served with chopped cilantro and a dollop of yogurt.
Curried Lentil Soup
For less heat, remove the red chiles. Regardless, after cooking remove the bay leaf, dried mango and chiles.
Recipe type: soup
Serves: 4-6
Ingredients
1 cup yellow lentils
1 cup red lentils
1 bay leaf
1 piece dried mango
2 red chiles
1 tbsp sun dried tomato (or 1 medium fresh tomato chopped)
1½ tsp curry powder
½ tsp tumeric
1 tsp paprika
¼ tsp cumin
salt and pepper to taste
2 tbsp butter
1 medium onion chopped
4 cloves garlic smashed
2 tbsp cilantro minced (for garnish)
Instructions
Heat butter in a large pot over medium-high heat.
Add garlic cloves and 1 diced onion; saute 6 minutes.
Add the dry spices, the bay leaves and chile pepper and cook about 3 minutes.
Add the rest of the ingredients and 8 cups water or chicken broth (less if you want it thicker); simmer until the lentils are soft, about 1 hour. Season with salt. Garnish with cilantro
Notes
Carrots and fresh tomato can be added as well.
Posted on November 10, 2010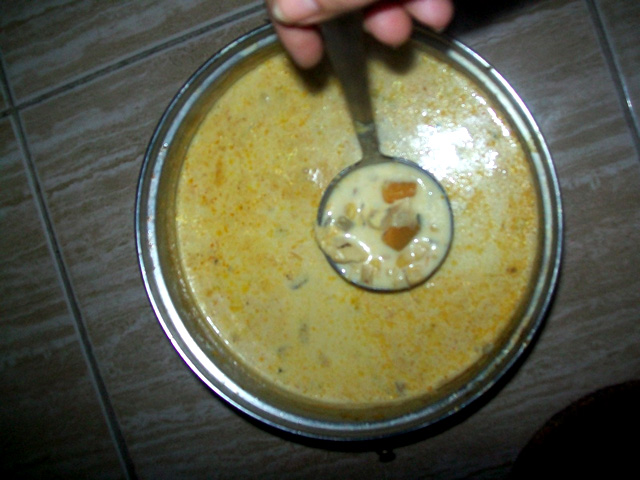 Spicy Fish Chowder
You can control how spicy you like it.
Ingredients
1 filet of white fish cut in small chunks
The Trio: diced medium onion, carrot and stalk of celery
1 Tbsp butter
1 tsp flour
2 Medium Potatoes diced
1 c Winter Squash like Butternut or in the Dominican Republic: "Auyuama", diced small
1 can of corn or 1½ c fresh corn
1 hot chili, stem removed, slit lengthwise
2 c milk
4 c water
Salt, Pepper, Tumeric, Paprika, Curry Powder
Instructions
Saute the Trio, squash and chili with the butter in a stockpot
When soft add the flour until it forms a paste, add 1 c water
Add fish, potatoes and corn
Add milk and spices to taste
Cook for 10 minutes then add rest of water, lower heat and cook down