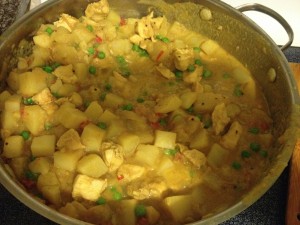 Dosai Masala, Indian Comfort Food
Author: CreativEliza
Prep time: 26 hours
Cook time: 40 mins
Total time: 26 hours 40 mins
Lentil Rice Pankcakes with Potato Curry
Dosai:
¼ c Ural Split Dal
1 c Basmati Rice
1 tsp Baking Powder
½ tsp salt
ghee or oil for frying
optional: eggs
Masala
4 potatoes peeled and cubed small
1 green chile, seeds removed and split down the center
1 medium tomato chopped
2 cloves garlic minced
1" piece of ginger grated
1 medium onion chopped
2 tbsp ghee or oil
½ tsp yellow mustard seeds
1 tsp curry powder
⅓ c cilantro leaves
salt & pepper to taste
optional: 1 chicken breast cubed
Dosai:
In separate bowls soak the dal and the rice for 8-12 hours. After soaking, drain water and grind separately with a little water as needed into a paste. The dal will be gritty, the rice smooth. Combine in a bowl with baking powder, salt, and enough water to make the consistency of pancake batter. Cover and let soak another 8-12 hours until fermented and bubbly.
After the second soak, heat griddle with a little ghee or oil. With a small ladle, pour batter quickly on the hot griddle in a spiral motion, trying to create a thin solid circle. Cook for a minute. At this point, if desired, you can break and egg onto the pancake and break the yolk. Cook another minute or until crispy. Flip. Serve hot.
Masala:
Heat ghee or oil in a saute pan. Add mustard seeds and wait until they pop. Add onions and cook until glassy. Add tomatoes, chile, ginger and garlic. Keep stirring and adding a little water until cooks into a paste. Add remaining ingredients except for cilantro leaves and just enough water to keep from sticking. When potatoes are tender, remove from heat and mix in cilantro leaves. Serve with the dosai and eat together.
Recipe by
Amor y Sabor
at https://amorysabor.com/dosai-masala-indian-comfort-food/