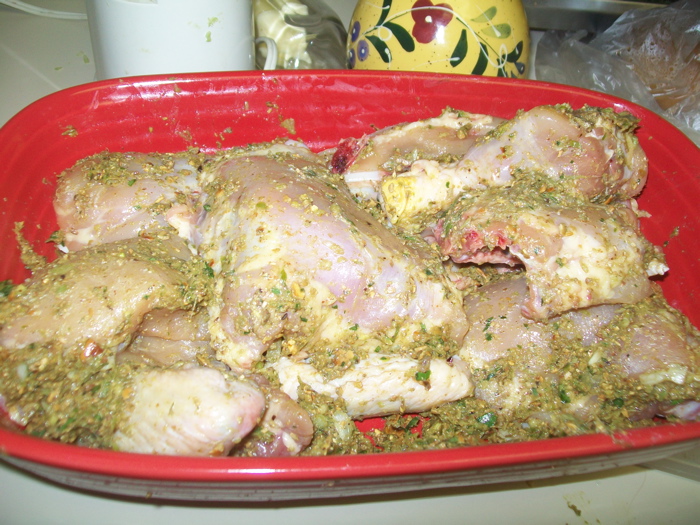 Pumpkin Seed Pesto Chicken with Olives & Raisins
Total time: 1 hour 10 mins
The pesto marinade can be made a day ahead.
½ whole chicken on the bone, skin removed, fat trimmed and cut into pieces
1 cup pumpkin seeds toasted
Fresh ginger, 1" square
3 cloves garlic
2 green onions (scallions)
1 stalk celery
Salt & Pepper
Green Olives - 3-6 depending on taste
½ c Golden Raisins
1 tsp oil
1 c chopped onion
1 tsp pumpkin seeds
Pulse hulled pumpkin seeds in a food process (or if they have their hulls, make it a fine powder with a coffee grinder) Set aside.
In a food processor combine ingredients ginger through salt and pepper) to a smooth paste. Mix with pumpkin seeds and coat chicken, cover with plastic. Let marinate in fridge for at least an hour.
Heat oil in a frying pan on medium heat. Add mustard seeds. When they begin to pop, add onions and stir for a couple of minutes.
Add chicken to pan and brown on all sides for several minutes. Add rest of spices, olives and 1½ cup water. Increase heat and stir occasionally. Cook down to a thick sauce, adding water if chicken is not cooked through. Once chicken is cooked, add raisins. Cook a couple minutes more.
Great served over rice or noodles
Recipe by
Amor y Sabor
at https://amorysabor.com/pumpkin-seed-pesto-chicken-with-olives-raisins/