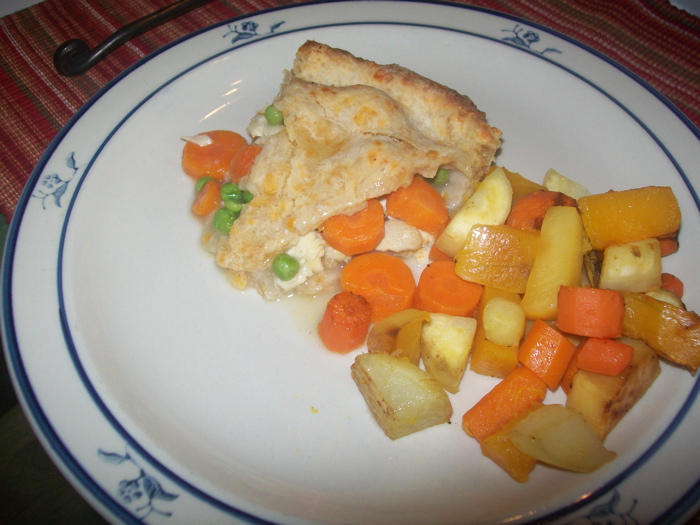 Deep Dish Chicken Pot Pie with Cheddar Crust
Total time: 1 hour 30 mins
Great comfort food. Works best with the leftovers from a roasted chicken
Crust:
1 stick butter cut into chunks
1 cup white flour
1 cup white wheat flour (whole wheat is a little too heavy)
1 whole egg plus 1 yolk
½ tsp salt
3 tbsp milk
1 cup shredded or chopped cheddar chees
Broth/Gravy:
Chicken carcass picked clean
1 sweet onion cut in chunks
1 potato peels, cut in chunks
½ tsp salt
1½ cup water
1 tbsp cornstarch for thickening
Filling:
2 cups shredded cooked chicken, skin and fat removed
1 cup carrots
½ cup peas
First make the crust by combing all ingredients in food processor and pulsing until smooth. Chill.
Then make the broth by boiling all ingredients for 30 minutes on a slow boil.
Remove all bones and fat (easier to skim fat if made ahead and chilled but I never remember this).
Put broth, onion and potato in blender and blend until smooth. Return liquid to pan on medium heat.
If broth is not thick enough, mix cornstarch with a small amount of cold water until smooth and add to hot liquid and cook for 10 minutes in a slow boil. Remove from heat
Spray a deep dish pie pan with oil.
Preheat oven to 375
Roll out bottom crust and place inside dish, trimming excess.
In a bowl, combine filling with ¾ cup of broth. Salt and pepper to taste. Pour into pie dish.
Roll out top crust and place over pie. Pinch edges, trim excess.
Cut two slits in top of crust for steam. Brush crust with melted butter or spray with oil.
Cook for 25-30 minutes or until the crust is golden brown.
I am a purist so I make my own crust, broth, etc. but canned chicken broth can be substituted and boiled chicken breasts instead of leftover roasted chicken. But there is no way to duplicate the crust with pre-made.
Recipe by
Amor y Sabor
at https://amorysabor.com/deep-dish-chicken-pot-pie-with-cheddar-crust/