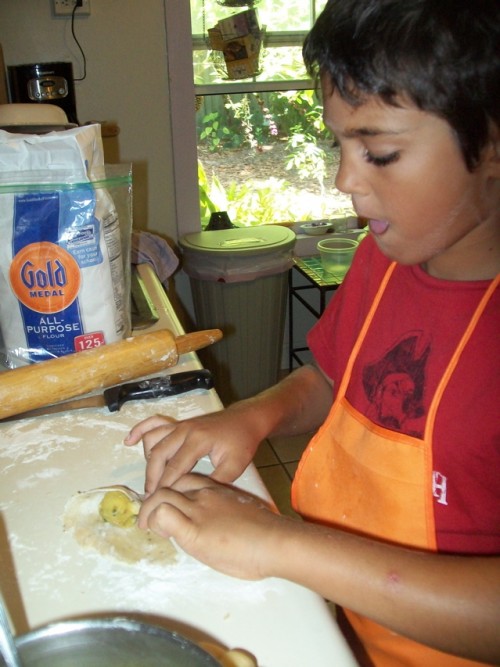 Total time: 1 hour 10 mins
Make the dough first, then while it's resting mix up the filling.
1 c white flour
1 c cake flour
1 tsp salt
½ c lowfat buttermilk
½ c peanut oil
3 russet potatoes
1 tsp curry
½ tsp tumeric
½ tsp paprika
½ tsp cumin
½ tsp caraway or ajwain seeds
½ tsp ground coriander seeds
2 tbsp mango chutney
1 tsp minced fresh cilantro
¼ c chicken broth
1 tbsp butter
For the dough, mix the white and cake flour with the ½ tsp salt, buttermilk, oil and caraway or ajwain seeds
Knead for 5 minutes
Let rest for 20-30 minutes
Peel and boil the potatoes with salt and tumeric. When tender, drain.
Add butter, chicken broth and mash potatoes.
Mix in remaining spices, chutney, and fresh cilantro.
Form the dough into small balls, 1½ inches in diameter. On a lightly floured surface, roll out the dough into thin circles, about 7" in diameter. Cut into half into two semi circles.
Place a 1" ball of filling in each semi circle of dough and fold into triangle. You fold the cuts side up, forming a corner, with the curved sides meeting. Repeat with the other side. Seal well. You will get a triangular shaped pastry.
Place samosas on a greased cookie sheet.
Preheat oven to 425 degrees. Cook samosas for 15 minutes.
Lower heat to 375, turn samosas over and cook for another 10 minutes.
If you want more kick, add one minced red chili pepper. Frozen peas are a nice addition. Also if you want to add poached, shredded chicken, that's good too but I prefer the vegetarian version.
Recipe by
Amor y Sabor
at https://amorysabor.com/baked-samosas/