Posted on November 30, 2012
ex·o·dus — a going out; a departure or emigration, usually of a large number of people
One week ago today we left the Dominican Republic for Florida. I had planned to write an update long before this, even on the day of travel, but there was no time.p
For us, this trip was very significant, an exodus of our family from the Dominican Republic. Far more than a flight, or even the end of the visa process we had been in for three years, but the departure, as a family, from a country that had been a part of our lives for many years.
It is not that this is the end of our relationship with the Dominican Republic for it is is inextricably intertwined in our lives. We met in the Dominican Republic; we married there. We lived together and separate for several years there — eight for me, four for Karan. Our children were born there and part of their heritage is Dominican. No, we are not finished with this country but one week ago our relationship changed forever. It was a shift.
In 2003 I first moved to the Dominican Republic. Over several trips, in many suitcases, I brought many things there. In 2008, Karan moved to the Dominican Republic and in 2009 he moved in with me and our lives and possessions merged. In 2010 I moved back to Florida with the children, taking our most precious things, getting rid of much more and leaving Karan with a scaled down version of our home.
For two years and ten trips, I traveled to the Dominican Republic. It was as if I haven't really left. The umbilical cord was stretched thin but not cut. Each time I returned, I was in my second home, with my husband and with my familiar belongings that I left behind. It wasn't about the things but rather what they represented. Like having your toe dipped in the pool makes you feel like you are participating in the water in some way, so the objects that I left behind made me feel like I was still living there.
But that all changed on November 20th when we were surprised and delighted to get Karan's passport delivered with his visa. Until then, we still didn't know what was going to happy. We had positive news but nothing concrete. We had to keep that toe in the water and also be prepared to leap if our news was bad. With the visa, however, we knew we could finally leave, together, and that changed everything.
On November 21st we completed all business in town in the morning and in the afternoon/evening we started moving out our things that had buyers, packing up what we wanted to keep and gathering the mounting trash pile.
On November 22nd we loaded our suitcases into a taxi and took them to a hotel in Gazcue. I stayed at the hotel while Karan returned to the apartment to clean it and hand over the keys. In typical Dominican fashion, after leaving the place spotless, and ten waiting several hours, the landlord decided that he wasn't sure he would return any deposit and also wanted the padlock Karan had bought. Knowing that we had no recourse since we were leaving the next day, Karan kept the lock and left. Then Karan went to get our certified marriage certificate we had paid for, a document we would need in the United States. More waiting. He didn't get back to the hotel until nearly 10pm.
After a quick clean up we headed out for a last night/celebratory dinner at a local Italian restaurant. At that point I was so tired from all the stress, adrenaline and then moving we had experienced over the last few weeks that I felt I could barely keep my eyes open. Even now, a week of good rest later, I am still worn down.
But we celebrated anyways because the moment was well…momentous and we had to acknowledge. Then after the meal, we collected ourselves and returned to the hotel for a restless sleep until morning.
We woke up with plenty of time so we walked to a restaurant the neighborhood, Villar Hermanos, which we had visited often when we first started dating. There we had a rather unsatisfactory breakfast as they were out of most of what we wanted and the rest of the food came cold. At least the coffee was hot.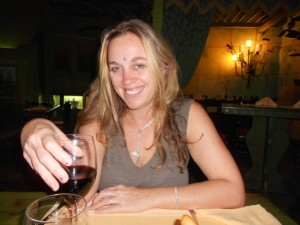 After breakfast we picked up some sweets at the local market and walked back towards the hotel. One last errand we wanted to accomplish was to exchanged some money, about $300, from pesos into dollars. Just as we turned up the street to our hotel a man approached us with a wad of pesos and telling us he can change the money for a good rate. Now we are not neophytes in the Dominican Republic, we knew to be careful. Karan took the money out to count. Then he handed me part of it for the taxi fare. Next thing we know, the money changer said to count it all and took both my pesos and Karan's and handed them back to Karan. We were both watching and didn't catch the trick but in the slight of hand he had pocketed the bulk of the money and just left us with the taxi fare. After handing it back he said something about how it would be better to do the exchange at the hotel. We agreed and walked off, not realizing until we were back at the hotel that we had been duped. A nice send off from the country we were finally freed of.
Freedom, that was just it. Freedom for Karan to travel to the United States, yes that was what the visa allowed, but it was also freedom for me that I wasn't bound to traveling to the Dominican Republic to keep my family together. I could come and go when I chose now.
The rest of the trip was rather uneventful. We went through customs in the Dominican Republic with no issues. San Juan was our entry point to the United States and we went through together. It was all very surreal. Karan got photographed and fingerprinted twice and signed some papers. Then his visa was stamped as admitted and we were off to our connecting flight.
The flight from San Juan to Jacksonville was long and we were able to rest a bit. Then, the moment came that we had been waiting for, we exited the plane, walked out to the greeting area and Marcos and Elsa ran as fast as they could to hug us. Karan got the most hugs but I didn't mind at all…