Posted on January 17, 2013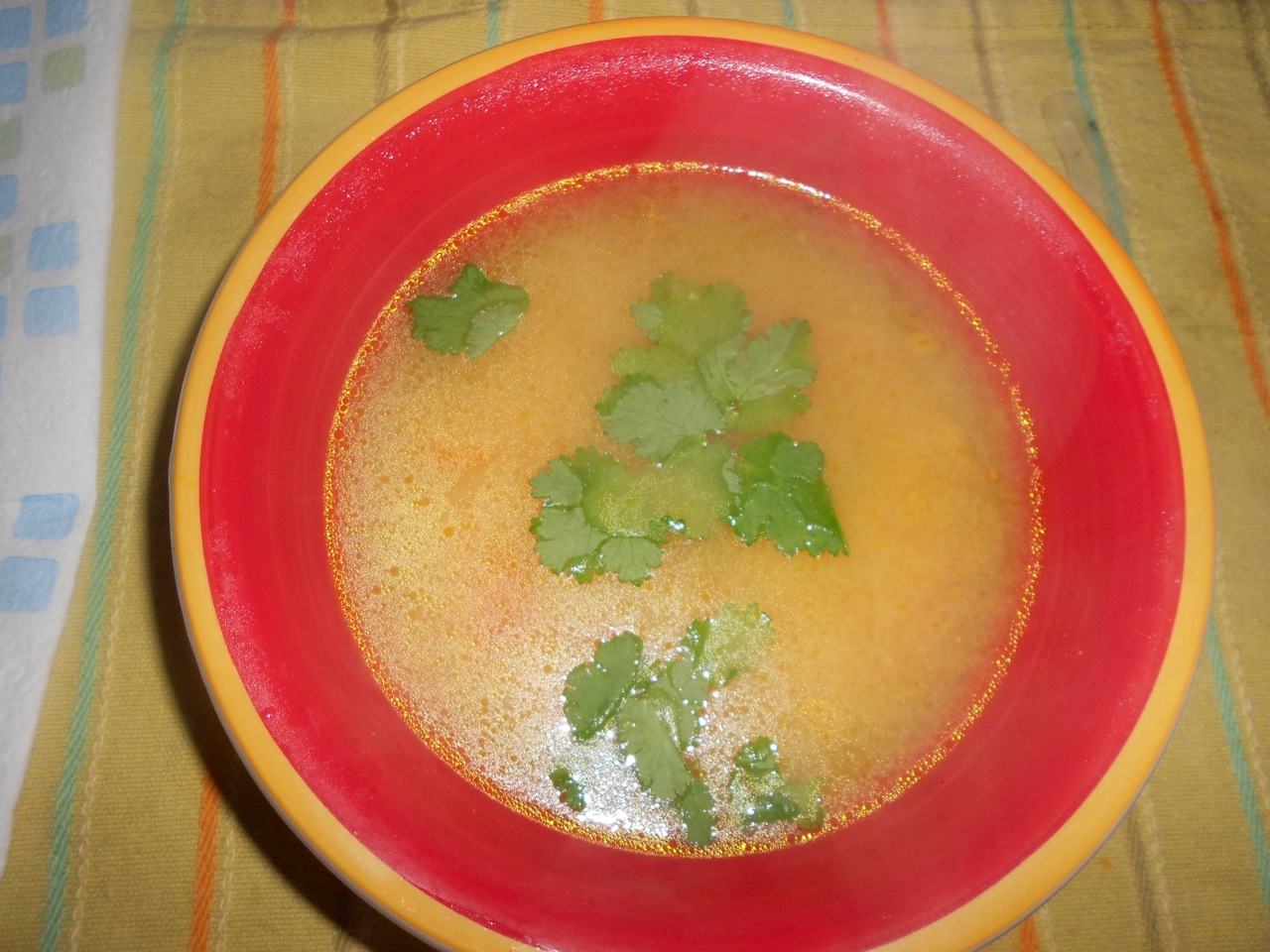 As everyone knows, it is flu season.  Many will go the traditional route and get a flu shot which is fine if that is what you prefer but I believe in the healing power of good food so I bucked the norm and chose not to get a flu shot for anyone in my family.
You see I believe that in our day and age we come into all sorts of toxins: in the air from cars, pesticides and factories; in our home from cleaning products, beauty products, unfiltered water; and directly in our bodies through what we choose to put into it: medicine, alcohol, tobacco, processed food. Everyone knows that tobacco is bad for you and alcohol should be moderate but in our culture, we tend not to think about the other two: medicine and processed food.
When it comes to medicine, I believe there is a time and place for it. When  you cannot solve a medical condition through natural means then medicine is necessary. It shouldn't be an automatic choice, in my opinion, but a last resort.
But it is processed food that I think is the real mystery for most people. We all know we need to eat better and we all say we try but for many the excuse is time. We simply don't have the time to cook fresh all the time so we don't. For me it takes time regardless, it is just that if you eat processed, the time comes in the form of increased susceptibility to sickness or worse, a serious health issue. Therefore, it takes a little more time each day to prepare fresh food for you and your family but, as I have written about before, if you get organized and keep the meals simple  it is not too bad and it will save you time in the long run.
So for this flu season, I practiced what I preach and did not resort to medicine and just relied on healthy food to get us through it. Did we get the flu? My youngest did, she's 6, and she had a fever for 3 days. I let the fever run its course, monitoring it but not giving her medicine, and fed her this soup listed below. My son also got a fever but never got the flu (we had them both tested to be sure). I only got a scratchy throat and Karan got the sniffles. All in all, the virus didn't get us, at least not very hard, and that is testament to the power of healthful, pure, food eaten daily.
So while you are trying to figure out how to cook more, here ia a recipe for a thin, vegetarian soup that will help you get through flu season. It is power packed with nutrition.
Flu Fighter
Packed with powerful ingredients to help you get through flu season.
Ingredients
½ c minced celery
½ c minced shallots or green onions
¼ c red lentils
1 c cubed butternut squash (1/4″ cubes)
1 medium tomato chopped
1 tbsp ginger minced
1 tbsp turmeric minced (may substitute powder if fresh is unavailable but won't have the same effect)
2 tbsp white miso
6 cups vegetable broth (you can save stock from cooking vegetables)
1 tsp ghee or olive oil
cilantro for garnish
Instructions
soak lentils in warm water for 1 hour, drain
in a ceramic pot or big soup pot, add the ghee or oil, saute the onions until glassy then add the celery, then the squash, the turmeric and ginger, spacing each out a minute or two to cook down.
add the tomatoes and cook until the skins start to break down.
add the red lentils and the stock. cook until lentils are soft on medium-low heat, about 1 hour.
add miso and mix well, reduce heat to low, cook another 5 minutes and serve with cilantro as a garnish
We all ate this soup during this flu season and I can attest to its healing power!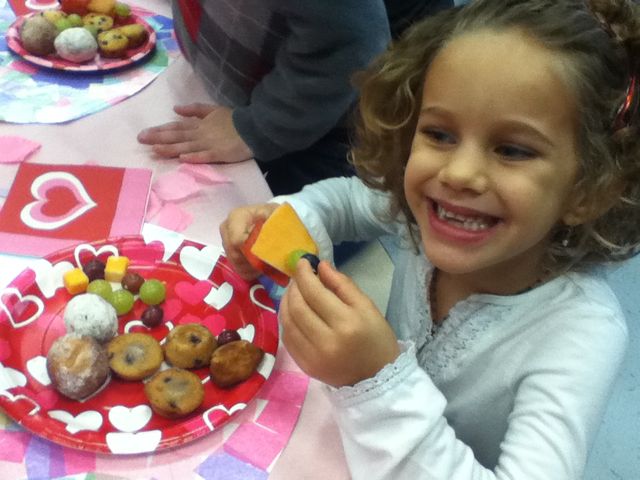 In my ongoing effort to slim down and be as healthy as possible, I've been working with a personal trainer the past month. As luck would have it, the trainer needed a website and I needed his services so it was a perfect fit. In addition to regular exercise, he has put me on a nutrition plan which has me eating several small meals a day. Although this is not a revolutionary concept, many weight loss programs recommend this, one of the skills I have is making connections and seeing things in a different way.
Small, frequent meals
It occurred me that this is very much how a kid eats: small frequent meals that provide energy but don't fill you up. Of course if you let kids eat whatever they want, some would eat six small meals of…candy, but obviously that is not what I'm talking about.
Think of your stomach like the fuel tank of your car. If you wait until it's sputtering on fumes before you put gas in, you cause stress on your engine. Well with your body, if you let yourself get down to fumes, your metabolism goes into panic and sends you signals to fill it up, which causes you to overeat and then feel sluggish. This is true even if you don't feel hungry — if  you skip meals or go to long between meals, your body feels stress. And since you panicked your body, any calories you don't need, your body will store (as fat) because it now feels like it needs to keep extra just in case. Now here is where the metaphor ends because with a car, it doesn't matter if you fill it up but with your body, if your goal is weight loss, you want to get it used to a steady flow of fuel without filling up so your body is always satisfied but if it needs more, it draws upon your 'storage'.
Healthy, high-energy kids do this naturally. Even kids with a large appetite fuel up enough to give them some energy and then they immediately burn it off. Although with our busy schedules, it is not practical to eat and then play off the calories, you can trick your body into the same effect by keeping your overall caloric intake down and breaking your meals into 5 or 6 small ones spaced through the day.
Plan ahead
This is more of a parent's role than a kid's but there is a reason why schools want you to send snacks with your child. This is to ensure that the child has a steady source of fuel to keep them going through out the day. Planning ahead as an adult can be even more challenging as we often put ourselves last as we strive to fit more and more each day. But if we suffer physically as a result, either through loss of energy, poor health or weight issues, we are really shooting ourselves in the figurative foot. Putting ourselves last ultimately will catch up with us and the consequences at the very least will result in a loss of stamina, strength and at the worse our well being.
The good news is that there are tons of tools out there that can help you plan ahead. My personal favorite is SparkPeople — it is a free site with tons of tools to help you plan your nutrition and exercise plus member forums and tons of resources. There is a mobile app too, and did I mention its 100% free??? SparkPeople and similar tools will calculate based on your weight and goals, the range of recommended calories, carbs, fat, protien and exercises per day. If you want to lose weight then go by the low end of the nutrition ranges and the high end of the exercise ranges. Then plan what you eat and record it using their trackers. I can't emphasize enough how invaluable it is to record what you eat especially. It is key if you want to lose weight or adjust what you eat.
I know it may seem time consuming at first but if you do it for a while you'll get the hang of it. Think of it in the same way you manage your finances. At first, putting together a budget is hard and sticking to it even harder, but if you are motivated to reach a financial goal, you'll see the benefit of keeping track of all your expenses. Soon the benefit of staying on track will outweigh the minutes you spend monitoring.
Mix it up
If a child is introduced to a wide range of healthy foods from a young age, chances are they will be healthy eaters. But, even the healthiest kids will vary their diet widely from day to day. My daughter Elsa who is only five, for example, eats many fruits and vegetables easily (if you look at the photo, she choose the fruit first over the sweeter options) but, her tastes flux. Some days she could make a meal out of avocados and other days she isn't even interested. Some of it is natural to the age as her taste buds develop but I also feel her body is telling her what she needs. I have discovered for myself that the more connected you are to your body, the more you will know just what you need to feed it.
When it comes to weight loss, you can assist your body by consciously varying what you eat. My trainer has me doing what is called "carb cycling". There are a range of definitions for this but his version is that one day you eat normal — high in protein, moderate in carbohydrates, low in fat. The next day you don't eat any direct carbohydrates such as grains, pasta, bread, potatoes or other high carb vegetables, while keeping the other elements the same. Your calories are naturally lower and you will still get some carbs from fruits, vegetables and diary, but it sparks your metabolism to use more of it's storage to have the energy to get through the day.
Mixing it up also applies to exercise — if you do the same routine week after week  you may be fine for maintenance but your body will not be inclined to lose weight. If you vary your exercise, you body stays in a state of surprise and that helps lose the weight.
I still have a long way to go and there are many ways to get there but I thought I would share mine…
Posted on February 5, 2012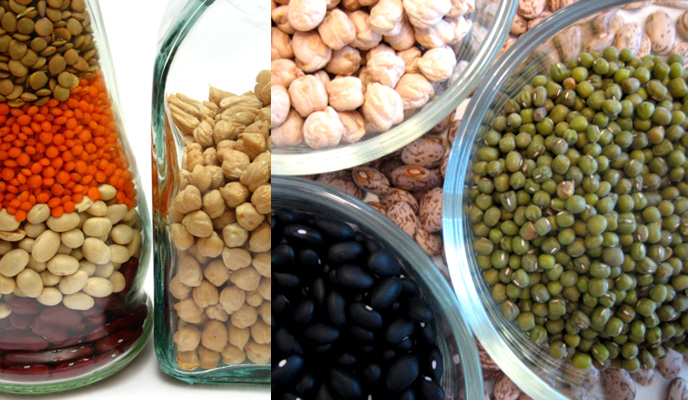 I have decided to add a new section to the site under Food for Cooking Tips. I am not a professional chef by any means, nor do I claim to be an expert on nutrition. But I do cook food from scratch, exclusively, and have been for several years.
It seems these days that we are always searching for ways to save money and improve our health. Dried pulses (pulses is the name for the family of dried beans and lentils) are a great way to do this. Most people know the benefits of pulses as a source of low fat, digestible protien. I know that most people are intimidated by cooking with dried pulses because to a newbie, it make seem a bit complex compared to opening a can but it is really easy with these simple tips.
Dried vs. Canned
So I'm sure you are wondering why bother with dried pulses when they are readily available in canned form? Read the list below and see if you are convinced.
Less Expensive — Dried pulses are much less expensive than the canned equivalent. Not only are they cheaper per volume (especially if you buy in bulk) but when cooked, dried pulses will increase from 2.5-4 times the volume
No Salt — Almost canned beans have added sodium but when you cook from dried you can control the sodium. If you add sodium at all you only want to do it after the beans are cooked because salt slows the cooking process.
Better Taste — Cooking from dried will give you a firmer bean (not mushy like canned) and much more flavor.
Higher in Nutrients – Dried contains higher nutrients than the canned, especially if you soak them the long method which retains more nutrients during cooking.
More Variety — If you have ever been to an Indian market you will see how large the variety of dried pulses are compared to canned. With lentils alone there are at least 10 different options.
Less Space — Dried pulses take up less space in your pantry per volume than canned.
No Chemical Risk — Canned beans are lined with plastic which can eek into the beans to some degree and even worse, cans with a visible seam can contain lead which will taint the contents.
Sustainable — Dried pulses use less packaging which saves energy to package and recycle, making them a good choice for a sustainable food source.
De-Mystifying the Cooking Process
Soak beforehand — Beans usually require about 8 hours of soaking time but all you have to do is put them in a bowl or pot and cover with water — easy peasy. Dried peas often need less time, 3-4 hours and lentils only need 30 – 45 minutes.
Drain and rinse — Always drain off the water you soaked the pulses in and rinse with clean water. During soaking, the beans release a substance what causes intestinal gas so by draining the water you are reducing this gaseous effect.
Boil until just tender — At this point the only thing I add to the beans is a pinch of Asafoetida which will further reduce the gaseous effect of beans. It can be purchases at Indian markets or online through spice stores.I fill the pot with water an inch above the beans and bring to a boil and then turn the heat down to a simmer.
Drain and season — When the beans are tender enough to bite into, I remove them from the heat and drain them. Depending on what I am going to make with them, I may want to use the bean water in the recipe. A great way to season the beans is to saute some onions and garlic in a little olive oil with the spices you like and then add the beans to the pan after the onions have gotten glassy. Then add the bean water until you get to the consistency you want.
Tips
Ethnic Markets — Check out the ethinic markets in your area for a source of dried pulses at the best prices — Indian, Latin, Carribean and Asian markets all carry dried pulses and usually the prices are much cheaper than super markets.
Soak in the morning — If you are like me and your brain seems to turn off after you get the kids in bed, then trying to remember to soak beans the night before is near impossible. But it is not necessary to soak more than 8 hours for even the biggest bean so if morning is better, just soak the beans then and they will be ready to cook by dinner.
Pressure Cooking — If you don't have the patience for soaking and cooking dried pulses, or if you just want a faster way, then pressure cooking is the way to go. With pressure cooking, dried beans are just as convenient as canned.
Asafoetida really works  — I have always loved beans but they give me intense gas. When I discovered this herb it has made all the difference. Be prepared, it smells awful. It was described in this one Indian book as "smelling like a fart but helping you not smell like one" and it is true.
Cook double, freeze half — Pulses freeze and reheat really well so to make it easier, I always cook twice more than I need and freeze half
As a mom of two very hungry growing kids, I cook with dried pulses a few times a week. Here are some of the recipes I've posted that use dried pulses:
…More to come!
Resources: