Posted on December 15, 2010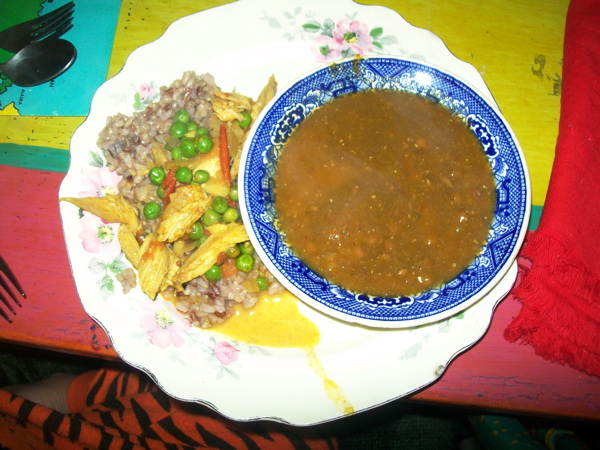 Above: Turkey Curry with Daal
Great way to use leftover turkey
Ingredients
Onion chopped fine
Mustard seeds
Curry powder
Paprika
1 med Chopped tomato
½ cup frozen peas
1 cup Coconut Milk
Chili to taste
2 cloves garlic chopped fine
1″ ginger grated
1 tbsp oil
Leftover turkey
Instructions
Saute chopped onions in oil. Add mustard seeds and other spices, chili if using. Add turkey and stir. Pour in coconut milk and add extra water if needed. A few minutes before serving, add peas.
Served with brown rice and daal in picture.
Posted on November 24, 2010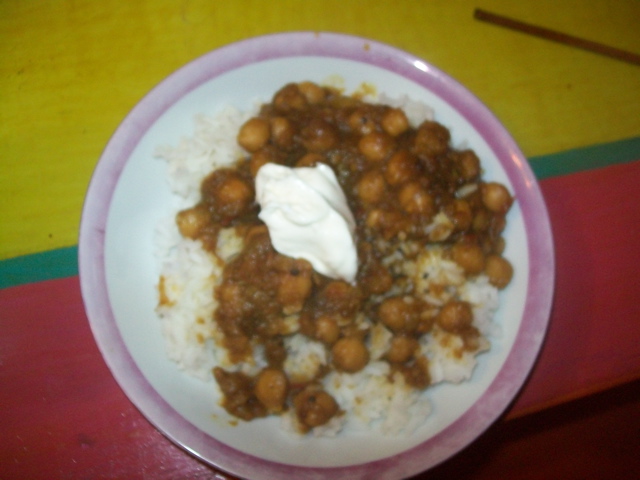 Above: Chickpea Curry with White Rice and Greek Yogurt
Chickpea Curry
For this recipe, you need to use dried chickpeas because they are cooked with the spices. Canned chickpeas will not have the same taste.
Recipe type: vegetarian
Cuisine: indian
Serves: 4
Ingredients
8-10 cloves
8-10 black peppercorns
3 black cardamon pods or ½ tsp black cardamon seeds
1 large bay leaf
½ tsp coriander seeds
½ cup dried chickpeas
2 large onions chopped
2 medium tomatoes cut into chunks
1 tbsp of oil or ghee
½ teaspoon of yellow mustard seeds
½-1 tsp salt (to taste)
½ tsp black pepper
½ tsp tumeric
½ tsp paprika
½ tsp cumin
½ tsp garam masala
Instructions
Soak chickpeas in water for 6 hours. After soaking, add to a sachet or tea ball the first 5 ingredients.
Drain water and replace with fresh. Add ½ onion to the chickpeas and cook on medium heat until the chickpeas are a little tender but not fully cooked.
Remove chickpeas from water. Save water.
Add large onion to blender with the tomatoes the liquid from the chickpeas. Blend well.
In a saute pan, heat oil and mustard seeds. When the seeds begin to pop add the remaining chopped onion. and the remaining spices. Once the onions are glassy, add the chickpeas and coat with the mixture. Increase the heat and add the liquid from the blender. Cook down until the chickpeas are tender and the sauce is thick.
Serve with white rice and a dollop of greek yogurt.
Posted on November 8, 2010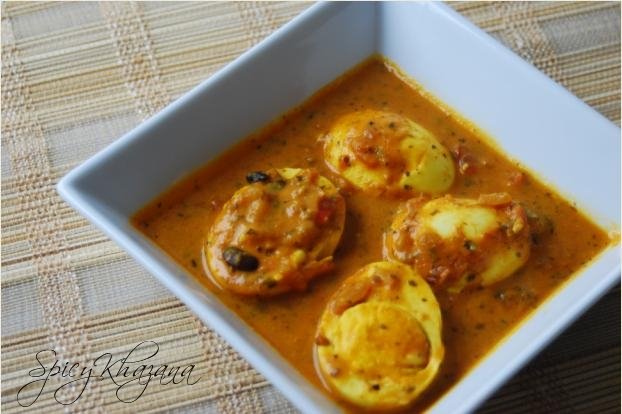 Boiled Egg Curry
Unusual dish for westerners but very tasty
Recipe type: Main dish
Serves: 4
Ingredients
5 Eggs Hard-boiled
3 Small Tomatoes Chopped
1 Onion Chopped Fine
2 Cloves Garlic Minced
1 Piece 1″ square of Ginger Grated
2 Tbsp Oil
1 tsp mustard seeds
Indian Spices to Taste
1 can coconut milk
Instructions
Peel eggs and slice in half
Sauté on medium heat the oil with the mustard seeds
Add onion and cook until glassy
Puree half of the tomatoes in a blender with garlic and ginger
Add rest of tomatoes to the pan, cook down
Add the sliced eggs and Indian Spices, cook for 2-3 minutes
Add tomato puree and coconut milk, mix well and cook down, add more water as needed until the flavors meld.